Top 10 photo editing apps to compliment Instagram
S

ocial networking has taken a major turn moving from the PC to the palm of one's hands. Over the last couple of years and more so over the last couple of weeks, Instagram has gained worldwide popularity at a break neck pace. From an app what was once limited to only iOS devices, Instagram has now become available on Android as well thus opening up the opportunity for casual as well as professional photographers to share their sights, thoughts and visions with the photography community.
Sure Instagram comes with a range of filters that can give pictures that added spark, but sometimes it is just not enough. The main aim of most Instagram users is to get their pictures up on the popular page or have a feed that is amazing to look at. So we have compiled a list of applications for your smartphone that may help you get the best of your pictures.
Snapseed
This is probably the best photo editing app available for iOS devices. The description reads, "Snapseed is the only photo app you'll want to use every day." The statement is true on so many levels as the app is streamlined well. It can perform simple tasks such as automatic adjust which helps in bringing out the best picture quality and one has the ability to manually adjust the image by tweaking the levels of brightness, contrast, white balance and various other settings. The filter list of the app is not that vast but it is not shallow as well. One can add drama as well as give photos that vintage look which is a popular concept on Instagram. It is slightly on the pricier side at just under $5 but the app does go free once in a while which becomes a good time to snag it. However, even if you have to pay for it, it is money well spent on an app that will compliment all your pictures uploaded to Instagram.
iOS

Frame Magic
Frames on pictures in Instagram are as synonymous as pictures are on postcards. They go hand in hand. Though Instagram has a range of frames for their different filters, one may want their profile to look a bit different than the millions of other Instagram users in the world. That's where developer Dion Cho came in and launched Frame Magic. It is a simple to use app for frames that gives the viewer the impression that their pictures have the raised effect by adding a shadow. One also has the ability to click pictures from the app itself. One can combine multiple images in one framed photograph. The app comes at a price of $0.99 and from the app itself one can easily upload images to Instagram, Facebook, Twitter and a host of other social networking platforms.
iOS
PicsArt – Photo Studio

If one is looking for an all in one application for all photo editing needs then this would be a great option to download. The pictures on Instagram are loaded with various filters and mostly people use the ones found in the app itself but with this application, one can do so much more than merely adding filters. There are a ton of effects to choose from such as HDR, Fattal, Pencil, Holgaart, Watercolor, Sketcher, Contours and Comic which would definitely set one's Instagram feed apart from others. The best part of this app is that it is free and one can easily share their edited pictures on Facebook, Flickr, Picasa and a few other sites as well.

Have you ever clicked a picture that you wanted really badly in black and white with just a hint of colour? Then this is the ideal app for you. A picture in this app is desaturated and using your fingers as a brush, one can paint back the colour in the picture. This app is great for adding that highlighted effect in images and these kinds of pictures are commonly found on Instagram's popular page. This app is available for both platforms and costs $0.99 for iOS devices while Android gets it for free.
iOS, Android
Adobe Photoshop Express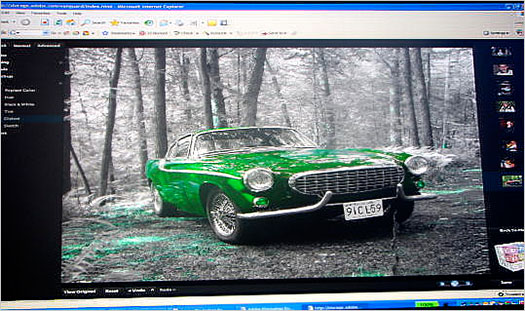 It is fair to say that Photoshop is the world's most popular and well known software for photo editing. So what happens when they move it from the desktop to the palms of our hands? We get an extremely lite version of the software of course. Photoshop on a computer is very advanced and one could not possibly expect all the features to appear on the handheld version. But Adobe for their part have done well and have given users the ability to adjust the levels of brightness, contrast, sharpness, focus and a host of other tweaks. Along with this, one can add a range of effects and tweaks as well to their images. This app is available for both Android and iOS for a price of nothing.
iOS, Android
FX Photo Studio
What if a person wants just one app and does not want any clutter of photo editing apps on their phone, then which app should they choose? The app from MacPhun, FX Photo Studio is the option that comes first to mind. This iOS app is loaded with a range of features from the basic tweaking of image settings like adjusting gamma, hue, saturation, etc. to more creative features such as color splash and a range of over 190 filters and effects that can set the tone for various images depending on one's mood. This app also comes with the ability to upload to Instagram and at a cost of under a dollar, this app is one you surely cannot miss out on.
iOS

Diptic
Diptic has established itself as the app to own where it comes to frames for pictures. With the app one can add up to five images in a single layout and there are a total of 52 layouts one can choose from. With this app one can easily adjust the border colour and width of the frames. One also has the option to capture images from the app itself or choose images from their photo library. One can also adjust the brightness, saturation, as well as the contrast levels in the process making it much more than a simple app for adding frames although it is awfully simple to use. The app is built for both Android and iOS so users from both platforms can enjoy all the app has to offer.
iOS
,
Android
BeFunky Photo Editor
It is a well established fact that Instagram is all about those vintage looking pictures and it had gotten really popular with its early bird filter. The developers have picked up on this trend of filters and have released this photo editing tool that allows one to have access to a range of effects such as LomoArt, Cross Process, Retro, Viewfinder, Pop Art, Vibrance. Tilt Shift and many more. This Android app allows one the ability to adjust their photos as well by cropping, rotating and adjusting common settings such as brightness, contrast, etc. With this app one can not only edit images but also upload the images to Facebook, Flickr, etc. right from the app itself.
Android
Pixlr-o-matic - Free
Collaboration is the key to success and with this photo app it certainly seems so as it has been propelled to one of the best photo editing apps available. With this app, one can choose from a range of filters, then collaborate it with an effect and lastly add a frame. With all these combined one can get a fancy looking picture that will look great on their Instagram feed. The app is available for both iOS and Android and doesn't cost a cent. Additionally one can also upload pictures to popular social networking sites as well from the app itself.
Photography tricks have almost always been limited only to DSLR cameras or professional compact cameras. But how can one replicate that effect using a smartphone? The answer lies in the form of Slow Shutter Cam that is available for iOS devices for just under $2. With this app one has access to three shooting modes, automatic, manual and light trail. With the automatic mode, one can create ghost images or add the effect of movement by adding blur. The manual mode allows a lot of light to hit the sensor which can be beneficial during low light conditions. Last but not least is the light trial where one can paint with light for example, by capturing the trail of lights of cars. This can be great to add that little pizzazz for one's Instagram feed.
iOS