Alright, Huawei has been commissioned to manufacture the latest myTouch devices for T-Mobile, and just like last time with LG's offering, they're also supplying a QWERTY one to complement the all-touch option. However, instead of being some sort of modest or super spec'd smartphone, this version of the
myTouch Q
is more laid back with its entry-level capacity. Fortunately, its $49.99 on-contract price seems tempting enough to warrant a purchase over other comparable model, so let's see how it performs.
Design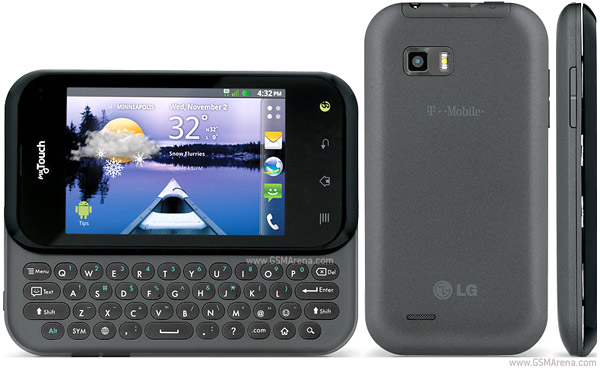 If you took the Huawei-made

T-Mobile myTouch

and added a landscape sliding QWERTY keyboard, you essentially have yourself the myTouch Q. Above all, we totally take a liking to its solid build quality and sturdy construction, but it's somewhat bulky (0.56" thick) and heavy (6.52 oz) by today's standards.
Looking

all around the handset

, we're greeted with things such as its microUSB port, volume control, power button, 3.5mm headset port, single-level shutter key, microphone, and capacitive Android buttons.
In terms of

cameras

, it packs along a front-facing 0.3-megapixel VGA camera and a rear 5-megapixel auto-focus snapper and LED flash – the latter of which can shoot videos in 720p. Removing the soft touch rear casing, its 1,500 mAh battery, SIM slot, and spring loaded microSD card slot are all accessible.
Display
Donning a

4" WVGA (480 x 800) LCD display

, it's manageable in making out most details, but fails in outdoor usage due to its extensive washed out appearance. Specifically, tilting the handset distorts the contrast level and color production, to make it nearly impossible to view in direct sunlight.
Software
Inside you'll find a user interface that's not quite as refined as Samsung's TouchWiz, quite similar to HTC's Sense, and almost nothing like LG's UI. The Qualcomm processor inside this device makes everything move fairly swiftly, but not nearly as swift as the top tier smartphones you'll find on T-Mobile – this is no Galaxy S III, and it's not an HTC One S, that's for sure. Instead is a device whose software was developed closely between T-Mobile and Huawei, a company relatively new to the USA looking to make a name for themselves subtly, not in a big way like its major competitors.
So subtly, in fact, that you might not ever realize who manufactured this device if you didn't take off the battery cover on the back of the device. The front of the device too only says myTouch for a brand, this being T-Mobile's line of affordable yet uniquely situated line of devices made up until now by HTC. The styling here is similar, and for the software there is indeed one component that remains the same – the Genius button.
You'll find this button in the lower right-hand side of the display along with the other light-up buttons mentioned above. It's green and replaces what you might remember from the past generation of Android devices as the search button. Here this green button with a lower-cased g on it offers you a selection of abilities that range from voice-activated selection of contacts to searching the web.
Though the Genius element here does not have quite as accurate a voice recognition as Google's new detector in Android 4.1 Jelly Bean, and it's certainly no Samsung S-Voice, you will find it to be pretty entertaining. Other than the Genius button, it's all pretty standard fare – you're working with Android 2.3 Gingerbread, which is a system that's been updated twice over since it was revealed over a year ago, but it's still perfectly fine for users new to Android.
And of course, there's the matter regarding its

physical keyboard

, which has a snappy response when opening/closing. With its oval sized buttons, they're spaced evenly from one another and slightly domed to offer us enough distinction with our thumbs. Beyond that, we're able to casually type at a moderate rate thanks to its adequate response. However, we would've liked to see an additional shift and "ALT" key placed on the right portion of the keyboard for added convenience.
Interface
If you're seeking for the latest and greatest people, you ought to move right along seeing that the myTouch Q resorts to sticking it out with an outdated experience. On the surface, the
Android 2.3.6
version is heavily covered by the myTouch skin, which is egregiously antiquated when compared to other custom UIs. Perhaps, things might be enhanced with the functions available with the Genius Button, but sadly, it only presents us with some basic voice recognition services like opening apps, placing phone calls, and searching the web.
Processor
Powered by the same

single-core 1.4GHz Qualcomm Snapdragon S2 processor

that's being used by its sibling, we're surprised to find it navigating across the homescreen very smoothly with a graphically intensive live wallpaper. However, we do notice some performance issues, such as delays in opening apps and choppy movements in various operations, which stand out and remind us of its underpowered CPU. Rightfully so, its benchmark scores reaffirm our suspicions.
| | | | |
| --- | --- | --- | --- |
| | Quadrant Standard | AnTuTu | NenaMark 2 |
| T-Mobile myTouch Q | 2040 | 3806 | 29,7 |
| HTC One S | 4867 | 7012 | 60,7 |
| Samsung Galaxy S III | 5335 | 12016 | 58,6 |
Internet
Sticking out like a sore thumb, the myTouch Q exhibits ways too much choppiness with its navigational control while surfing the web, which is even more evident with Flash heavy sites. Well, besides its jerky performance, it's able to load pages in a timely manner thanks to its speedy HSPA+ connection.
Even if there's nothing within reach, we'd seriously question using the T-Mobile myTouch Q for capturing photos or videos as a last resort – mainly because its quality is rather appalling. Not only are details extremely muddy looking, but it's totally ineffective in capturing any reasonable shots in low lighting.
Multimedia
Relying on the usual

Play Music app

, there's nothing out of the ordinary with its functionality or presentation in playing some of our tunes. Still, our attention is sparked thanks to the strong volume output provided by its speaker – albeit, there's a hint of sharpness with it.
Out of the box, there's no support for

videos

encoded in H.264, DivX, or Xvid. Instead, we're able to play our test video that's encoded in MPEG-4 1280 x 720 resolution. Yes, it's able to play it very smoothly, but due to the washed out appearance of its display, it doesn't come off as pleasing.
In order to hear the crisp

voices

on the other end of the line, we're required to jam the earpiece up close and personal to our ear just because its volume output is extremely weak. Using the speakerphone, however, its strong volume enables us to handle conversations with no issues.
Testing out the myTouch Q in primarily high-coverage areas, it's able to maintain a steady

signal strength

of -79 dBm. Luckily, we didn't experience any dropped calls or fluctuations with its connection.
Battery
Power users will obviously need to charge this one constantly, but for those of you who aren't as demanding, its

battery life

is average enough to get by through a single day with normal usage.
Conclusion
Frankly, there's nothing special about this latest myTouch Q smartphone – aside from the fact that it's bearing one likeable $49.99 on-contract price. As we're all too aware, pricing can really entice some people into buying a particular device, even more when all the core functions of Android are available with it. Simply, that's what we find here with the Huawei-made

T-Mobile myTouch Q

. Folks, it's not going to shake things up, but for those who yearn for a passable QWERTY-based smartphone, the myTouch Q should deliver enough of the goods to get most people by. At the very least, its solid design is a vast improvement over some of the entry-level devices we've seen put out by the Chinese manufacturer.
PROS
Inexpensive price point

Well-sized physical keyboard

Clean design and sturdy build quality
CONS
Running Android 2.3 Gingerbread

Washed out display

Somewhat bulky