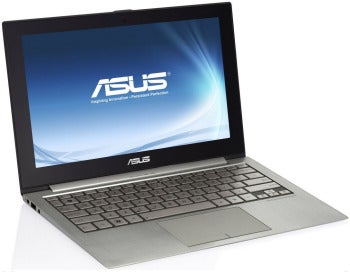 Last year's
Asus Zenbook UX31E
Ultrabook got top honors with reviewers and shoppers alike. It was a sleek, sexy metal notebook with higher than average resolution and strong performance. It was also one of the first Ultrabooks to hit the market, and that gave it an obvious advantage. Since then many competitors have released Ultrabooks that addressed some of the Zenbook's shortcomings. Asus is an aggressive company that listens to customers and they've not only improved on our complaints, but added a killer feature: a 1080p IPS display.
The Zenbook Prime UX31A is a 13.3" Ultrabook running on third generation Intel Ivy Bridge ULV CPUs. Asus offers it with Intel Core 1.7GHz i5 and 1.9GHz i7 dual core CPUs, Intel HD 4000 graphics, 4 gigs of RAM soldered to the motherboard and 128 or 256 gig SSDs. We take a look at the Core i5 with the 128 gig SSD for this review (model UX31A-DB51). All Zenbook Prime models have a 1080p IPS display, SSD and backlit keyboard. Yes, even the Zenbook Prime UX21A 11.6" model has a 1080p display!
Design
The 2.86 pound UX31A Zenbook Prime is a dead ringer for the first gen Zenbook UX31E, and that's a good thing since that machine was simply stunning looking and well made. The casing is metal and extremely rigid. The combo of a dark metal swirl lid and a brushed stainless steel hinge barrel and bottom look great. The laptop looks and feels like a high quality piece of tech that holds its own against the MacBook Air. Like the Air, it tapers and is 3mm thin at the front and 9mm at the rear.
The Zenbook Prime has two USB 3.0 ports (one charging), micro HDMI, mini VGA, 3.5mm audio and an SD card slot (SD cards stick out and aren't flush with the casing). Like the last Zenbook, Asus includes a USB Ethernet adapter and VGA adapter in the box and a brown ballistic nylon slip case for the dongles and another for the laptop.
Stereo speakers fire from the left and right edges just underneath the notebook, and volume is decent for a small machine. The tiny speaker grilles aren't positioned directly over the oval drivers inside, and I'd bet that reduces potential volume. The UX31A won't win in a battle with HP's Beats Audio notebooks, but sound is full enough that you can enjoy a few music tracks or a movie without running for the headphones or external speakers. Like the previous generation Asus Ultrabook, the UX31A has Bang & Olfusen ICEpower audio.
Despite the all metal casing, the Asus doesn't get terribly hot when doing productivity tasks. Case temps stay in the low to mi -90's Fahrenheit and the palm rest area is typically 90 degrees. When doing productivity work the fan is nearly silent, and when gaming the fan becomes audible but it doesn't roar. CPU temps are in the upper 20's Centigrade when web browsing and using MS Office (that's quite cool).
Display
The Zenbook Prime impresses before you open the lid thanks to the elegant industrial design and sturdy feel. Open it up and the matte 1920 x 1080 IPS display seals the deal. The matte panel is simply gorgeous: very bright, lovely balanced colors and high contrast. Text is very sharp and black levels are excellent. Asus didn't skimp here. The 360 nit panel is brighter than most notebooks on the market (disable the ambient light sensor if you really want to blast your retinas). The display will likely set the Zenbook Prime ahead of the competition for some time. Since this is an IPS panel, viewing angles are very wide, and there's no need to angle the display forward and back to find the sweet spot as with TN panels. Whites are wonderfully neutral and the display looks as good as my MacBook Pro with Retina display, though Mac OS X does a better job of fine tuning fonts in Retina-aware apps. Contrast is likewise excellent with rich blacks that don't invert or look muddy.
It wouldn't be an Asus product if we didn't have some light bleed, but to be fair, light bleed in IPS displays isn't uncommon. What is light bleed? The display may have lighter spots near the edges when viewing black backgrounds like the black bars in letterboxed widescreen movies. Our unit, which came from a local retailer, has a small amount of light bleed along the bottom edge, but it's nothing we'd call annoying (watch our video review to see the display showing a pure black image in the dark). Anecdotally, the Zenbook Prime UX32VD seems more prone to light bleed according to user forums. Interestingly, our UX31A's light bleed decreased after a few days, to the point where it became hard to demonstrate for our video review. Perhaps the glue securing the display panel had finally set?
The Zenbook Prime has Intel WiFi and Intel graphics: the happy couple that's required for Intel WiDi wireless display, which is pre-installed. With WiDi and a receiver box that plugs into your home theater setup via HDMI like the Netgear Push2TV, you can stream your display's contents to your HD TV, or use your TV as a second monitor sans wires. For those who prefer wires, there's a micro HDMI 1.4 port on the right side and a 3.5mm combo headphone/mic jack. For those who use projectors and older monitors, there's a mini VGA port and Asus includes a dongle adapter that converts it to a full size VGA port.
Keyboard and Trackpad
Asus has greatly improved the keyboard with much better tactile feel and key travel. Really. I spend lots of time writing and the original Zenbook keyboard annoyed me more each week. I've written 5 reviews on the Zenbook Prime keyboard and it has me smiling. It's not as tactilely delightful as theDell XPS 13 and Lenovo ThinkPad X230 keyboards, but my typing speeds and error rates were good. The keys are backlit and you can control backlight level via Fn keys or let the ambient light sensor handle it for you. Thanks to the rigid casing, there's virtually no keyboard flex, unlike the UX32VD.
The Elan trackpad is improved as well, with more reliable tracking and multi-touch behavior, but palm rejection is weak. I installed the free utility TouchFreeze to improve palm rejection when typing. Pro tip: uninstall Asus Virtual Touch and multi-touch gestures will work much better! After Asus Live Update installed an update for Asus Smart Gesture (Asus' TouchPad driver that replaces the Elan driver), multi-touch gestures were more reliable and native palm rejection improved greatly so I didn't need TouchFreeze. Bottom line: the trackpad works, but like many Windows laptops, it falls far short of the Retina MacBook Pro and MacBook Airexperience.
Asus Zenbook models compared
| | CPU | GPU | Storage | Display | Price |
| --- | --- | --- | --- | --- | --- |
| UX32VD | 1.7GHz Core i7-3517U | Nvidia GeForce 620M | 500GB HDD/24GB SSD | 1,920x1,080 | $1,299 |
| UX32A | 1.4GHz Intel i3-2367M | Intel HD 3000 | 320GB HDD/32GB SSD | 1,333x768 | $779 |
| UX31A | 1.7GHz Intel Core i5-3317U | Intel HD 4000 | 128GB SSD | 1,920x1,080 | $1,079 |
Asus Zenbook Prime UX31A specs
Price as reviewed

$1,079

Processor

1.7GHz Core i5-3317U

Memory

4GB, 1,600MHz DDR3

Hard drive

128 SSD

Chipset

Intel QS67

Graphics

Nvidia GeForce GT 620M / Intel HD4000

Operating system

Windows 7 Home Premium

(64-bit)

Dimensions (WD)

12.8x8.8 inches

Height

0.1 - 0.7 inch

Screen size (diagonal)

13.3 inches

System weight / Weight with AC adapter

3.1 pounds / 3.5 pounds

Category

13-inch
Audio
Audio through a speaker grille at the very top of the keyboard tray was predictably thin, despite the Bang & Olufsen ICE Power branding. Audio volume controls are mapped to alternate F-key functions, so you'll need to hit, for example, Fn+F10 to mute the sound.
| | Asus Zenbook UX31A | Average for category [13-inch] |
| --- | --- | --- |
| Video | HDMI (via dongle), VGA (via dongle) | HDMI or DisplayPort |
| Audio | Stereo speakers, headphone jack | Stereo speakers, headphone/microphone jacks |
| Data | 2 USB 3.0, SD card slot | 2 USB 3.0, 1 USB 2.0, SD card reader |
| Networking | Ethernet via dongle, 802.11n Wi-Fi, Bluetooth | Ethernet, 802.11n Wi-Fi, Bluetooth, optional mobile broadband |
| Optical drive | None | DVD burner |
Compared with the thicker UX32 model Zenbooks, you lose a USB port here, but little else, even with the thinner body. The USB 3.0 ports even charge devices (like phones and media players) while the system is asleep or off.
This is a classic Ultrabook, and that means dual core 17 watt Intel Core i5 and i7 ULV (ultra low voltage CPUs) that use less power and generate less heat than their full mobile counterparts used in standard size notebooks. That said, they're more than fast enough for everyday productivity work like web, email, MS Office and even moderate Photoshop work.
Streaming and local HD video playback work wonderfully and that's much appreciated given the 1080p display. Ultrabooks rely on Intel HD graphics, and in the case of this third generation Intel machine, that means Intel HD 4000 graphics, which is significantly faster than the Intel HD 3000 used in Sandy Bridge models like the UX31E. That doesn't mean you can play Crysis 2 on high settings at native resolution, but casual and older 3D games play with good frame rates and even demanding current games like Skyrim play at 30 fps on low settings and a less stressful 1366 x 768 resolution. Beyond serious gaming, what else wouldn't I use an Ultrabook for? Editing 1080p video on a daily basis. It's fine in both Core i5 and i7 dual core renditions for occasional vacation footage editing, but is too slow for those who edit HD video professionally/frequently. There is no quad core i7 ULV CPU, Intel stops at dual cores.
The machine has 4 gigs of DDR3 1600MHz RAM soldered to the motherboard, so no upgrades are possible. Look to the Asus Zenbook Prime UX32VD for upgradable memory and hard drives. The Zenbook Prime UX31A is available with 128 and 256 gig SATA III SSD drives, and these are made by ADATA and Sandisk. There's no way of knowing which you'll get, since the "Sandforce" sticker that indicates the faster ADATA drive is on the inner box (the same was true with last year's UX31E). That said, the Sandisk drive is much improved over that used in the UX31E, and it no longer means a huge performance drop vs. the ADATA with a Sandforce controller. Our model from a local Microcenter had the ADATA 128 gig drive and the 1.7GHz Intel Core i5-3317U CPU.
Thanks in large part to the SSD drive, our Zenbook Prime UX31A feels very peppy, and Windows boots in well under 30 seconds. Resume from sleep takes just seconds. It scores very high on synthetic benchmarks like PCMark Vantage because of the SSD drive that's so much faster than conventional spinning hard drives, but don't let that fool you: in terms of raw processing power it's not faster than 15.6" and larger laptops with full Intel Core i5 and i7 CPUs. Though we fault PCMark for favoring SSDs so much, it does reflect the perceived performance boost they offer for core functions like launching apps and booting Windows. The machine boots and launches applications much more quickly than a quad core i7 HP Envy or Dell XPS with a conventional spinning hard drive.
3D Mark Vantage: 2801
(GPU 2310, CPU 7663) on Performance test preset
PCMark Vantage: 12,272
Memories: 7336
TV and Movies: 4625
Gaming: 8920
Music: 13,620
Communications: 12,348
Productivity: 15,158
HDD: 46,609
Windows Experience Index:
Processor: 6.9
RAM: 5.9
Graphics (for Aero): 5.9
Gaming Graphics: 6.4
HDD: 7.9
Benchmark Comparison Table
PCMark Vantage

Asus Zenbook Prime UX31A

(Core i5)

12,272

Asus Zenbook UX31E

(core i5 Sandy Bridge)

10,021

Sony Vaio T (Core i7 ULV Ivy Bridge Ultrabook)

12,120

Lenovo ThinkPad X230

(Core i5 Ivy Bridge)

8152

Sony Vaio S 13.3

(Core i5, NVidia GT640M LE)

7575

MacBook Pro with Retina (Core i5, NVidia GT650M)

19,174
Battery Life and Networking
The Zenbook Prime UX31A has a 50 watt Lithium Ion battery that's sealed inside. Like the last Zenbook, it comes with a small charger that looks like a gloss black version of the Macbook Air charger. In our tests with WiFi active and display brightness set to 40% (which is quite bright), the UX31A averaged 6 hours on a charge, which is average for an Ultrabook and good considering the machine is pushing extra pixels.
Asus offers 4 custom power plans for performance, entertainment, quiet office and low power consumption. You can tweak these if you like, and we suggest changing the default power management for WiFi: it sets the radio to low power mode, which destroys transfer speeds. A little too power-frugal, Asus!
The UX31A has dual band Intel Advanced-N 6235 WiFi 802.11b/g/n, and range and speeds comparable to other notebooks once we adjusted that darned WiFi power setting. The metal casing didn't cause any problems with download speeds or range. The laptop has Bluetooth 4.0 as well, and 10/100 Ethernet via the included USB Ethernet adapter.
Do we like the Asus Zenbook Prime UX31A? Oh yes, in fact we love it. It has superb build quality, one of the most elegant and attractive designs on the market and that 1080p IPS display will spoil you. The MacBook Air's display will be a let down, and even the super color-accurate Sony Vaio Z 1080p display will seem weak for viewing angles and brightness. The much more typing-friendly backlit keyboard, fast performance and dual USB 3.0 ports seal the deal.
Price: Starting at $1,099 for the Core i5 with 128 gig SSD