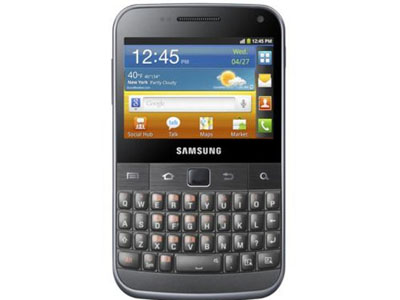 According to Samsung's naming scheme, the "Pro" component in the

Samsung Galaxy Y Pro Duos

's title indicates a physical keyboard, while "Duos" means it can support two SIM cards at once.
While "Pro" has often been included in the name of portrait or side-sliding physical QWERTY handsets, now the moniker is officialized by Samsung, guaranteeing some thumb gymnastics. Again following the Samsung nomenclature, "Y" should indicate an entry level handset, targeting emerging markets or the younger crowd, i.e. affordable handsets with lesser specs.
The Samsung Galaxy Y Pro covers these modest expectations with a humble sub-1GHz processor, 3MP camera and a 2.6" display with pedestrian resolution, but it sports a capacitive touchscreen in addition to the portrait QWERTY thumb-bender, and the big advantage of supporting two SIMs simultaneously. Are these features complementing each other well in the Galaxy Y Pro Duos? Let's find out.
Design
The Y Pro Duos doesn't shine with any unorthodox design decisions, it's just a portrait QWERTY candybar. The phone looks like a soapbox with the tapered edges and rounded corners, making it more comfortable to hold, and the back cover is plastic, but imitates brushed metal looks very successfully.
There are no fancy capacitive buttons underneath the display – all four Android keys and the optical pad in their middle are

physical buttons

, which will appeal to many who prefer reassuring clicks and clacks underneath their fingers.
All

navigational buttons

are large, and easy to feel and press. The optical pad can be clicked to execute a command, too, and it is sensitive enough for accurate navigation across the display.
Display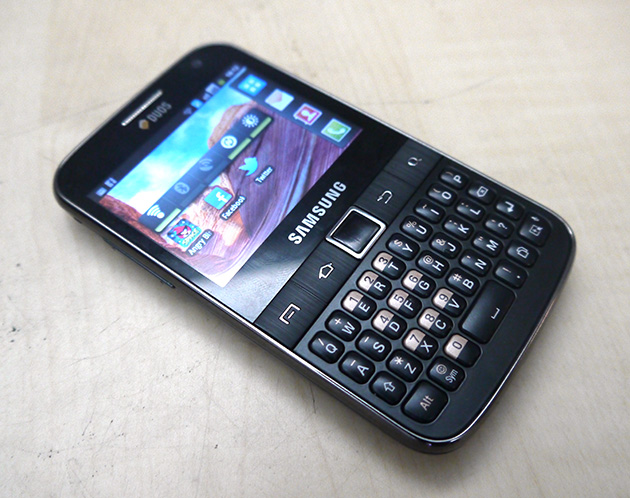 At 2.6", the screen size is what one can expect from such a form factor. It sport a bit washed-out colors and isn't winning any pixel density awards, too, with its 320x240 resolution (154 ppi), but that's somewhat standard for the phone's category. It is sufficiently bright for comfortable use outside, but the horizontal viewing angles are pretty weak.
Keyboard
Now it's time to say a few words about one of Samsung Galaxy Y Pro Duos' most important assets – its

physical portrait QWERTY keyboard

. The phone is relatively wide, with enough space for the keyboard; it is chiclet-style, with each dome separated from the others with enough space to easily feel the buttons by touch. There is a function key down right, which can be assigned to any action of your choosing, too. The only gripe is the somewhat shallow travel, which takes getting used to.
Interface and functionality
Android 2.3 Gingerbread runs pretty well on the Galaxy Y Pro Duos, because the TouchWiz overlay flaunts very few transitional animations, and no transparencies or other resource-consuming eye candy here.
Since there isn't any

virtual keyboard

, the relatively small 2.6" screen feels spacious enough when typing texts, emails, or updating your social networking status.
Samsung's Social Hub

will be pretty often used on such a handset, as it covers the popular Facebook and Twitter, but the phone also contains a Microsoft Exchange setup for the business crowd.
Processor and memory
We have an 832MHz processor on the handset, which powers the interface well enough on the low pixel density screen, but starting apps oftentimes appears slow. There is half a gig of RAM, and you get a microSD slot for storage expansion.
| | | | |
| --- | --- | --- | --- |
| | Quadrant Standard | AnTuTu | NenaMark 2 |
| Samsung Galaxy Y Pro Duos | 982 | 1876 | 12,9 |
| LG Optimus L3 | 1271 | 2559 | 13,2 |
| Samsung Galaxy Chat | 1771 | 3365 | 25,3 |
Internet and Connectivity
Gingerbread's

browser

is a rather strange experience on a 2.6" display. We are not used to the lack of pinch-to-zoom, but scrolling, text reflow and panning work quite well, so it is still rather usable.
Besides double-tapping, you can

zoom in and out

with the usual magnifying glass icons, but the zooming process is pretty slow, yet you need it, since at this pixel density, zoomed out text is unreadable. The browser doesn't support Adobe Flash, only Flash Lite for seeing the occasional ad or video.
The Samsung Galaxy Y Pro Duos sports a decent set of

connectivity options

– 3G, Wi-Fi, A-GPS and Bluetooth, as well as FM Radio RDS. No bells and whistles such as DLNA or Wi-Fi Direct here, which weren't expected anyway.
The

camera interface

is basic, but functional, offering several preset scenes and effects, as well as Panorama and Smile modes.
The 3MP fixed-focus shooter here makes oversharpened and a bit oversaturated

photos

with normal for its resolution amount of detail. The phone sometimes fails to get the white balance correctly, resulting in warm yellowish overcast. Indoor photos have the white balance off as well, towards the cold end of the spectrum with greenish hue, and come out pretty noisy when the lighting goes down.
The maximum

video capture

resolution is the paltry 320x240, which basically renders the footage useless anywhere but on the phone's display. We wanted to see at least 640x480, as this CPU should be able to support it, but alas.
There is a front-facing camera for video chat, too, unlike on the single-SIM Galaxy Y Pro brother.
Multimedia
The default

TouchWiz music player

is what takes care of your tune needs, and it sports a bunch of equalizer presets with enigmatic names like "music clarity" or "externalization", as well as song categorization by artists, albums and playlists. The loudspeaker sounds clean, but is not loud enough.
The

video player

runs MPEG-4 files up to the screen's resolution and even a tad above, but for other formats you'd have to hit Android Market.
Call quality

in the earpiece is about average, with a strong enough sound, but the voices sound a bit distorted. The microphone, however, relays very noisy, digitized voices to the other end, and to top it off they sound muffled.
The

1430mAh battery

is quoted for seven hours of talk time in 3G mode, which is slightly below average, and maintaining two network connections at once takes a heavier toll on the battery.
Conclusion
The

Samsung Galaxy Y Pro Duos

looks poised to take on popular entry-level handsets with two SIMs, like those from Nokia's Asha lineup. It, however, runs Android 2.3 Gingerbread, which immediately gives you the advantage of the Google Play Store
Handsets like this, targeted at teens or emerging markets, are usually guaranteed to sell in volume, if they are a compelling combination of features, and Samsung seems to have all the right ingredients here.
The handset sports a pretty decent hardware and design for the price, and navigation is aided by the capacitive touchscreen. Overall, we dig the simple and functional design of the Samsung Galaxy Y Pro Duos. Its physical keyboard keys are of decent size, the navigational buttons are easy to press, and the capacitive touchscreen is responsive. Naturally, if you have larger hands, this won't be the phone for you, unless you can make do by pecking with your nail edges.
Above all, the handset makes operating two SIM cards at once very easy, which is an extremely popular feature in emerging markets. The main gripes are the low quality microphone, and the useless video capture resolution.
The pricing is in line with the "Y" moniker, which guarantees it will be a sought-after handset, with very few brand-name competitors at this level. Actually a threat might be another Samsung handset, the

Galaxy Y Duos

, which ditches the physical keyboard, but sports the same hardware. If you want a larger screen on your dual SIM phone, you can look at last year's

Galaxy Ace Duos

.
Nokia Asha 200

is actually the one resembling the Galaxy Y Pro Duos design most with its portrait physical keyboard and dual SIM support. Asha 200 is much cheaper, but doesn't have Wi-Fi, and, of course, doesn't run Android.
Finally, the

HTC Desire V

sounds like the best dual SIM choice alternative, as it sports the company's renowned unibody design, has a 4" display with decent resolution, and runs Android ICS, but is more expensive.
PROS
Support for two SIM cards at once
Inexpensive
Good physical keyboard
CONS
Weak microphone
Basically useless 320x240 video capture