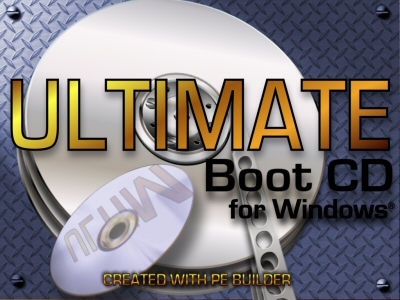 Ultimate Boot CD For Windows XP (UBCD4WIN)
UBCD4Win is a bootable recovery CD that contains over 150 free software tools used for repairing, restoring, or diagnosing almost any computer problem. Because it's bootable it contains its own version of Windows XP, so it doesn't matter if your own XP installation is damaged or corrupted so it's perfect for curing PC's that won't start.
To create a disc you need
A PC running Windows XP
A Windows setup CD (preferably with the most recent service pack)
A broadband internet connection
If your PC was supplied with only a manufacturer's recovery disc, you will need to borrow a 'proper' CD from a friend. As long as you have a properly licensed copy of Windows installed, this is perfectly legal.
To begin, you need to download the UBCD4WIN builder to your desktop fromhttp://www.ubcd4win.com/downloads.htm . It's a large file so it will take a long time to download however fast your broadband speed.
Double click the file you've downloaded, and just follow the onscreen instructions, agreeing to the various licences and accepting all the defaults. On the final screen, ensure there's a tick beside the box labelled 'Launch UBCD4WinBuilder.exe', then click 'Finish'.
Next, in the main screen's Media output' panel, you need to specify the toolkit's destination. Click on 'create ISO image'. The path and file will be created if they do not exist. But please remember that the filename must have an "iso" extension or it will not be created.
Burn the iso file onto a DVD.
Test the disc. Next time you start your computer, change your Bios so that you boot up from the DVD and not from the hard drive.
When the toolkit launches you'll see a plain looking menu with a default option of starting up from UB4WIN. Just hit 'enter' to proceed. You'll see a familiar looking XP desktop (click 'yes' when asked if you want network support and you'll connect to the internet).
Simply use Windows as you would normally, using the tools to troubleshoot the PC. Some programmes can be accessed via icons down the left hand side, and others are accessed by clicking on the Start button then Programmes.
We would recommend backing up all personal tools or making a ghost copy of the hard drive before using any of the other tools or programmes.