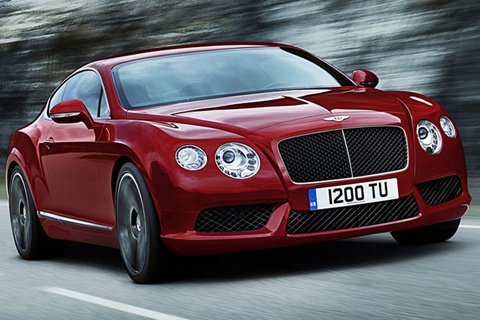 Fresh on the heels of its introduction at the Frankfurt Motor Show,

Bentley

is ramping up to go topless with the latest version of its franchise Continental GT, the 2012

Bentley Continental GTC

. A soft top version of the GT Coupe, it offers another way to get your daily requirements of Vitamin D. Bentley chose to administer our most recent dosage of such at the Adriatic Seaside resort town of Rovinj, Croatia. SPF-50, please. We are on our way.

Croatia is pretty far off the beaten path for typical vacation destinations. We are visiting the Istria peninsula, which is on the eastern coast of the Adriatic. Still possessing vestiges of some distantly past Marxist-style rule, not to mention plenty of the fallen empire's architecture, it is undergoing a revitalization following years of civil upheaval. It is a visual feast, filled with influences from the east and the West, as well as a healthy dose of the Mediterranean, too.


We fly into Pula Airport, about 50 minutes from Rovinj. Examples of former Yugoslavian military might remain, including several unused and overgrown military aircraft hangars, a windowless control tower and, curiously, an old, beat up McDonnell Douglas DC-9 Super 80 wearing the fallen flag colors of Air Adriatic lettered with the legend "I'm the Winner," across its nose. Winner, indeed.



Marketing its way into new markets



Bentley

CEO and Chairman Wolfgang Dürheimer offered that the company has sold over 4,016 cars so far this year, which would put it on pace as the best start since 2008. More than 1,000 Bentleys have been sold in China alone (Favorite color: Black), which is an increase of more than 67 percent. Not to be outdone, there has been a growth spurt of 36 percent back in the good ol' U.S. of A. Of those, just under half have been from the GT lineup. Things must be looking up all over.

Also the head of VW Group's motorsports efforts, Dürheimer has all sorts of ideas of where to put the firm's racing dollars to work. While he vehemently denies plans for a NASCAR lineup to emerge from VW's new Tennessee plant, he is enthusiastic for anything that goes fast and he hinted that some possibilities that could inspire future product design for the group as a whole, and Bentley in particular. A Bentley Continental Superlightweight, perhaps?



Emotional model


No, we are not talking Naomi Campbell on meltdown. Dürheimer continued that the Continental GT has been the dominant force in the line, "always the most emotional model in the lineup." They hope that carries forward with the new GTC. A four-seater, it has undergone refinements that include a wider track front and rear, a sharper, more athletic pose and wider stance for more presence. In keeping with Bentleys of the past, what looks like metal, is metal. Plastics be damned.

Further refinements include the addition of a "neck warmer" from the Cobra-styled front seats (looking like a cobra preparing to strike), which when combined with the GTC's full-time all-wheel-drive, will offer full-time 365 day-a year motoring.

Bentley's use of superforming has allowed for more refined sheetmetal fabrication. Starting with aluminum panels superheated to more than 500 degrees, the body is formed using high-pressure water to bend curves that might otherwise be impossible to achieve without unsightly cuts. The result is a sharper, cleaner crease running along the leading fender edges and both fascias.

Construction underneath the skin makes the Continental GTC the stiffest convertible in the world for even less scuttle-shake and reduced noises. Acoustic wheel arch liners and undertrays minimize road roar, while acoustically-laminated windscreen and side glass control the wind above.

A composite boot lid is utilized to hide any sort of electronic antenna required for the hardware inside this Continental. Former Bentley CEO Dr. Franz-Josef Paefgen ordered that nothing take away from the beauty of the car, including fender and roof-mounted antennae, sharkfins, or spider webs on the rear glass of the convertible top.



Bespoke is spoken here


Bentley interior designers and the craftspeople that execute their biddings are true artists in their respective disciplines. From the large knots of wood shaved down to millimeter-thin veneers to the sheep shorn for deep pile wool carpets to the seamstresses who sew and single-stitch the hides, a Bentley interior can be as mild or as wild as owners wish.

To that end, the company now offers 17 different hides and seven different wood veneers and cool-touch metals to allow buyers complete personalization.

An eight-inch monitor holds sway on the top center of the dashboard. Offering access to vehicle systems and navigation, telephony and music, it is also the gateway to a 30 GB hard drive.

The newly designed heated, ventilated and massaging "Cobra" seat is thinner than the previous model, while careful scalloping adds 35mm extra rear legroom through slender construction. We wouldn't choose to sit back there, but the efforts are appreciated. A reconfiguration now has a veneered eyeglass case at the rearward point of the center console, while cupholders are now placed near the center armrests. Improved storage cubbyholes including one at the base of the centerstack offer places for cellphones, MP3 players and the like.

A seven-bow, three-layer roof isolates road noise and is closable while the vehicle is still in motion. It managed to sound as quiet as a hardtop when up, while we still managed to carry on a conversation without having to yell at speed when it was down. For times where music was the desired choice, the available ($6,700) Naim for Bentley audio system offered stellar reception and audio clarity.



Powerworks


The handbuilt W12 engine includes technology from parent VW Group. Used in the Continental lineup since 2006, it is a smooth operator with 567 horsepower and 516 lb-ft of torque, with improved fuel economy. For those keeping track, that's 15 more ponies and 37 more pounds of twist than the outgoing model. The powerband was virtually flat, coming on at around 1,500 rpm and holding almost until redline.

The W12 is mated to a ZF six-speed transmission with Quickshift that trims shift times by 50 percent and enables gear-skipping double downshifts for optimal grunt. Those wanting to row it themselves will enjoy the column-mounted paddle shift levers. The Bentley drivetrain team said to expect 11/19 mpg with an average of 14 mpg. But who's counting?

For those who choose to live green, or at least in a more efficient side of luxury, a 4.0-liter V8 will become available later this year. Dürheimer is quick to point out that the W12 will remain as the most powerful engine in this lineup.

The GTC has been refined over the previous 50/50 torque bias to a new 40/60 rear bias that minimizes understeer through diminishing radius turns that seemed to appear out of nowhere on our drive route through the former Yugoslav Republic of Croatia. Our sample rode on chromed 21-inch alloys with Pirelli P-Zeros. Assisted by a speed-sensitive steering, we were easily able to use throttle control to pull-and-push through the turns despite a hefty 5,500 lbs. curb weight.

The suspension on this brute is comprised of multi-link setups, front and rear, with computer controlled self-leveling air suspension and anti-roll bars throughout. Offering continuous damping, it monitored road conditions in milliseconds, and changed according to which ride control settings we selected.

On smooth surfaces, we chose sport mode, which had the car hunker down into a firm and aggressive pitch, while comfort mode seemed to smooth out the imperfections we found on the narrow backroads we encountered. Passing numerous old Renault Quattrelles on the highways amongst the olive groves had us thinking we were in Provence rather than a seaside town on the Adriatic. But as slow as they puttered through, we were able to stand on it, causing the ZF to downshift quickly for a rapid blast past them.

Passing zones seemed to be at a premium on many of these roads, so it was good that the Continental GTC was able to make hay of the situation in such rapid fashion.



Leftlane's bottom line


We were, once again, impressed with Bentley's engineering prowess, which seems to defy the laws of physics at every turn.

Big ultra-luxury grand-touring vehicles are not supposed to be so fast, so agile, and so beautiful, all at the same time. Mr. Dürheimer says it's a perfect example of British motoring tested and proven on the German Autobahn. We'd have to agree.