For the past couple of years, Panasonic's higher-end plasma TVs have been known for excellent picture quality, and 2012 is no exception. In contrast, its LCD range, with more models and larger sizes this year than ever before, still poses a threat to the Samsungs of the world. The TC-LE50 series is one of Panasonic's least expensive models available in larger (47- and 55-inch) sizes, and while it performs better than the

DT50

at twice the price, it's still not a great deal.

Picture quality is mediocre with gray blacks, a fairly mean serving of shadow detail and colors that look a little "off." I liked its styling, however, and the E50 offers a better feature set -- Smart TV and a large serving of connections
-- than the otherwise superior and less expensive

Toshiba L5200

. But the trade-off here is in picture quality, and I believe you should always pay for the best picture your money can buy, and not the most number of widgets and doohickeys.

Series information: I performed a hands-on evaluation of the 47-inch Panasonic TC-L47E50, but this review also applies to the other screen sizes in the series. All sizes have identical specs and according to the manufacturer should provide very similar picture quality.



Design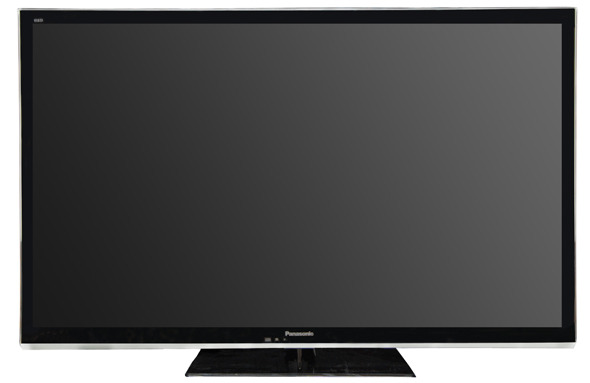 Panasonic is currently enjoying its most fashionable year ever, with boomerang stands and trendy glass accents, and thankfully this renewed design effort touches the E50 series. The television may not be as fancy as the high-end WT50, but it isn't ugly by any means. It features a glossy black frame and an attractive, clear bottom bezel.

The remote control is a stripped-down version of the clicker I've become very familiar with over the last few years, with a central D-pad and large buttons. Unfortunately it's a little cramped in the middle and it's too easy to accidentally hit Internet instead of the Up key, which necessitates waiting while the Smart TV interface loads.
Features
Key TV features

Display technology

LCD

LED backlight

Edge-lit

Screen finish

Glossy

Remote

Standard

Smart TV

Yes

Internet connection

Wired

3D technology

N/A

3D glasses included

No

Refresh rate(s)

120Hz

Dejudder (smooth)

processing

Yes

DLNA-compliant

Photo/Music/Video

USB

Photo/Music/Video

Other:

Optional USB Wi-Fi adapter (

DY-WL10,

$80 list)
While one of the Panasonic's closest rivals, the Toshiba L5200, strips out the features in favor of a better picture, the E50 does give some concession to the specs list. While it misses out on 3D, the Panny still features Smart TV (which is arguably more useful) but it uses a wired, Ethernet connection only. You can add a wireless dongle to the TV, via one of the dual USB ports, but this can add up to $100 to the price.

It's slim pickings in regard to further features of the TV, with a 360 Back Light Scan as part of its motion compensation engine and a 24p Cinema Smoother. As a budget TV, there's no backlight dimming or other LCD-enhancing features.
Panasonic d
ebuted its Smart TV platform several years ago and the name has changed a few times -- now it's called Smart Viera. The interface remains the same, though, and it's still easy to use. It consists of a big grid of eight tiles with all of the best apps available on the first screen, including Hulu Plus, Netflix and Skype (here's the full comparison). You can swap any available app in or out, a level of customization not found on other Smart TV suites. Response time depends on your connection, and while the look is somewhat old-fashioned compared with LG's and Samsung's slick interfaces, it's also arguably more usable.
The selection here falls short of many other competitors, particularly LG and Samsung. There's no advanced calibration here; the most useful controls are the three presets for color temperature and three settings for smoothing in addition to the usual basic adjustments.
Though it's an inexpensive television, the E50 still offers a full complement of ports, with four HDMI inputs, two USB connectors, a hybrid component/composite adapter and an Ethernet connection. What did they leave out? Wireless. As I mentioned above, if you want to upgrade a compatible wireless adapter for one of the USB ports, it will cost you between $50 and $100 online.
In comparison with the picture quality presented by rivals such as the Toshiba L5200, the Panasonic E50 is unimpressive at the price. It doesn't do anything particularly well, with fairly inaccurate colors and grayish blacks. It's better than a bargain-basement TV like the catchily named TCL L40FHDF12TA, but not much.
The E50's biggest problem is that black areas of the picture are subject to backlight bleeding, which further obscures the TV's average handling of shadow detail. Side-by-side with the Toshiba, the Panasonic's images lack the solidity of the L5200. Even a decent way with 24p sources doesn't do much to propel the picture of this Panasonic TV past shoulder shrug territory.

Click the image at the right to see the picture settings used in the review and to read more about how this TV's picture controls worked during calibration.
Comparison models (details)

TCL L40FHDF12TA
40-inch LCD
Sharp LC-60LE640U
60-inch edge-lit LED
Panasonic TC-P50UT50
50-inch plasma
Sony KDL-55HX750
55-inch edge-lit LED
Toshiba 50L5200U
50-inch edge-lit LCD
Traditionally, an LCD TV that looks poor in a darkened theater room will look OK under lights, where flawed black levels become hidden. But whether in the dark or light the blacks of the E50 were quite bad in this category.
On the notoriously dark scenes of "Harry Potter and the Deathly Hallows Part II," the E50 was not the worst performer in our lineup -- that dubious honor goes to the TCL -- but the Panasonic wasn't much better. While it's able to pick out some detail from the onscreen gloop, the much more talented Toshiba delivered images with greater solidity.
Compared against its competition, not to mention the Panasonic's own UT50 plasma, the E50's grayish blacks made dark scenes look a little soggy. In addition, while the TV does offer some usable shadow detail, the poor uniformity hid most of it.
On the upside, though, and counterintuitively, the TV offers deeper black levels than the more expensive Panasonic DT50's, which is, at the time of writing the worst tv I have looked at in 2012. At least the E50 does offer up some depth where the DT50 simply couldn't.
A look at the geek box below will quickly tell you that color accuracy is not this television's strong point. While I was able to get a relatively lively picture tackling the Color control to the ground, the charts are all still over the shop. What this translates to in program material is a saturated picture which is just a little bit too red. This is as a result of Panasonic's default Movie mode itself being way too red, and with a limited selection of controls this was too difficult to correct.
The E50 was able to decode the 24p properly material without a problem, which is the major benefit of its 120Hz refresh rate. It also did very well in the motion resolution test, but only with Clear Motion dejudder turned on. As usual, enabling that mode also introduced smoothing and artifacts that were much worse to my eye worse than any judder or blurring it was trying to prevent, so I kept it turned off.
Uneven colors, a lack of shadow detail, and here's another to add to the list: uniformity problems. Most vendors are getting on the LED bandwagon this year, and it seems to be to get that tick in the check box -- LED is automatically better, dontchaknow? I'm kidding.
Edge-lit LED TVs often have problems providing a uniform image across the screen, and the E50 is no exception. The sample I received exhibited really bad uniformity, with large gray splotches when displaying a black screen or in many scenes you'd find in a dark movie like "Deathly Hallows," and they were most prevalent in the left and right hand sides of the screen.
Off-axis performance was pretty good for a cheap LCD, and while its stablemate the WT50 is better, the E50 shows off IPS technology's strengths: namely decent off-angle viewing. If you want a consistent off-axis picture and near-perfect uniformity, you're still better off buying a plasma, of course.
While most LCDs look better in a lit room than in a dark one where the panel's innate lack of contrast is less of an issue, the E50 performed poorly in a bright room with blue-ish blacks and a higher reflectivity than most of its competitors in the lineup.