Every year Apple hits us with a new, shiny iPhone. This year, we are finally getting features that we've wanted for a while now, such as a new design, front facing camera, a better quality camera with flash, and of course a much improved screen.

The

iPhone 4

also packs some hidden treats on the inside, making this the best model so far. Is it worth the upgrade from the iPhone 3G? Did you just recently buy an iPhone 3GS and you aren't sure if you want to upgrade already? Or maybe you have never owned an iPhone yet and are thinking the iPhone 4 might be the time to switch. Keep reading to find out, and see if the iPhone 4 can live up to your expectations.

Note: Pay attention to all the pictures in this review, as they were taken strictly with the new iPhone 4 camera.
DESIGN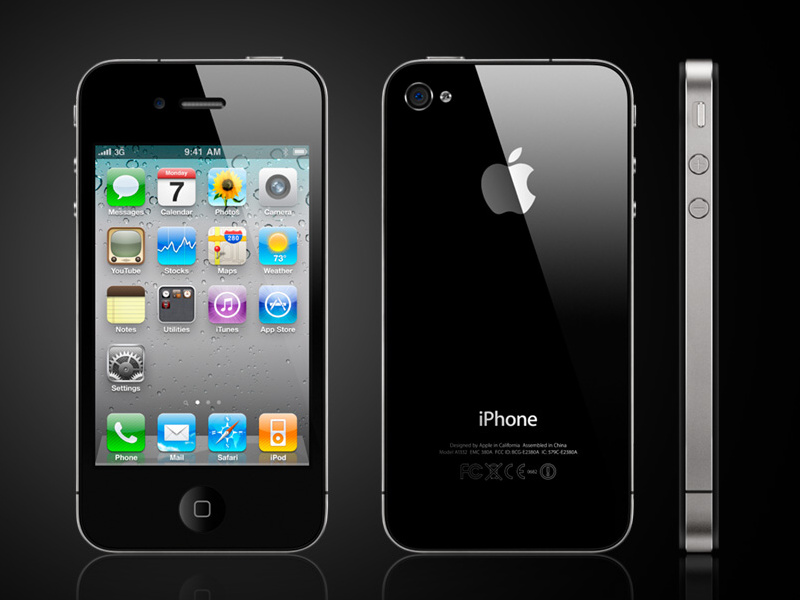 Apple gave the iPhone 4 a design overhaul from the previous 3GS version. The new model is only 0.37 inches thin, compared to its predecessor which is 0.48 inches.
There is no plastic on the exterior of the iPhone 4, and the standard silver bezel that was the trim to all previous iPhones is now gone. The front and back now glass. Supposedly, the glass used is "30 times harder than plastic", and is "comparable to the strength of sapphire crystal", according to Apple's Jonathon Ives.
Between the two pieces of glass is an aluminum strip that wraps around the entire phone. The cool part about this is that the metal trim serves as an antenna for 3G, Wi-Fi, GPS, and Bluetooth, which helps signal significantly.
Display
When you first look at the display on the iPhone 4, it is simply gorgeous. This is without a doubt one of the best improvements on the new model. The new screen resolution is 960 x 640, up from 480 x 320 on all previous iPhones and iPod touches.
Since the screen didn't get any bigger, there is a lot more pixels per inch now -- 326 to be exact. Currently, there is no other smartphone on the market with a screen of this resolution. To the human eye, it is almost like a digital print. You really can't see any individual pixels anymore, and everything is more crisp.
It will only be a matter of time before all the current applications are updated to support the resolution. The developers have to do little work to make this change.
Now if Apple increased the screen size of the iPhone, that would have been a completely different story, but I can't see that happening anytime soon.
Apps
What's one of the main things Apple is famous for other than all the other things you're probably thinking like Macs and iPods and Macbooks? Yes, that's right: applications. Not the Newton.
The iPhone 4 is only the start here - the phone really comes alive when you start filling it with simple to find applications.
For app-naive, the App Store has over 200,000 mini programs in the App Store portal - some are free, some cost as little as 59p, and some over £50. But the sheer range of options on offer is dizzying.
For instance, you can get a BBC iPlayer application, a camera manipulator to improve the quality of your photos, iMovie, addictive games like Angry Birds and RSS readers - all for next to nothing.
We can't really tell you how to use the application store, but go and have a nose around - the addition of iAds (which are advertising applications discreetly hidden within the apps themselves) will mean more money coming in, and therefore more applications in the future.
Connectivity
The iPhone is, as you'd expect, jam-packed with functionality. You've got an upgraded Wi-Fi chipset in there to now cater for the faster 802.11n hubs, and of course we're treated to GPS, Bluetooth 2.1 and A2DP as well as the normal HSDPA and 3.5mm headphone slot.
The Bluetooth is impressive as ever too - simply search for and pair with a Bluetooth headset, and whenever the iPhone 4 finds that unit broadcasting a signal in the future it will connect automatically - which makes it much easier to use.
The GPS, as we mentioned earlier is lightning fast, but it's a real shame about the reception issues with the data - we really thing the signal dropping is going to annoy a lot of people when they've shelled out so much money for a new phone.
Buttons and Controls
On the front of the Apple iPhone 4 you have the standard "Home" button, along with the proximity and ambient light sensor, and the biggest change, a VGA front-facing camera.

Around the outside of the device you can find the standby button, the new microSIM slot (which has some improved benefits over the standard SIM card), a speaker, a microphone, another microphone (that helps remove background noise), a headphone jack, a silent toggle, and two separate volume buttons.
Media
The iPhone has always been a good vehicle for digesting media - not least because it's the freakish offspring of an iPod and a touchscreen PC.
The iTunes interface is the best way to get media on your phone, and the 3.5-inch screen was always a good option for selecting music and watching a few bits of video here and there.
So you can imagine that if you take that, add in a much stronger processor and improve the screen quality, you're going to get a humdinger of an experience.
The music application actually hasn't changed that much, as it's still one of the most in depth music players on the market.
Cover Flow, where you can see all the album art of the records (yes, we're saying records) you've currently got packed on your iPhone 4, is much faster than before - the phone snaps between portrait and landscape in trice, and flicking through your albums is as fast as you want it to be.
Turn over an album cover, and you'll see all the tracks on offer listed there - it makes so much sense and really adds that cool factor other phones struggle to match.
Once in the song, you get the basic controls, such as repeat, skip, shuffle etc, plus the genius that is... well, Genius.
Simply press the swirly atom icon when you're listening to a tune you like and the iPhone 4 will take look through your library and suggest a number of songs that complement it well.
It's a really innovative feature, and when you're shown songs online that you might like to buy, often you find you do as you're more certain they're the right kind of thing for you.
Sonically, the iPhone 4 is pretty good too - the audio is rich and produces some decent sounds at the mid-to-low range, as well as handling vocals with aplomb - you can see the iPod heritage once again coming through here.
Also you can control the music from the phone's lock screen – simply double tap the home screen when the screen is in sleep mode and you can interact with the songs.
When the iPhone 4 is turned on for the first time, shake to shuffle is activated by default. Turn this off in the Settings menu, as it responds to the slightest quiver of the leg, meaning every time you walk your songs cycle fast than Chris Hoy when he's late for his tea
.Performance

The inside of the

iPhone 4

packs a serious punch. It has the same Apple A4 chip that is also used in the iPad, which has 1 GHz of processing power -- although Apple underclocks it to improve battery life. If you are coming from an iPhone 3G, you are going to be very pleased with the results because you will indeed notice a drastic change in performance.

The iPhone now also has 512 MB of RAM, which is a big step up from the 256 MB found in the iPhone 3GS. This brings better performance when performing many tasks, most especially multitasking.

As noted earlier, this smartphone has been upgraded iOS 5.0. More information on this new version is available in

Brighthand's review.



Apple's latest smartphone is launching with iOS 4, the latest version of Apple's operating system. This brings a range of new features, including the greater support for multitasking I've mentioned several times now.

iPhones have always been able to run Apple's own apps in the background, but the new version gives third-party software a limited way of doing this. Apps are essentially paused, and only some special service tasks will be truly running in the background.

When you hit the Home button twice, the current page you are looking at shifts upward, and up from the bottom rises icons for four applications that are already running. From here you can just tap one of those applications and be taken to it.

iOS 4.0 also lets you store application icons in folders, gives you an improved inbox, and even lets you use Bluetooth keyboards.

Wireless Features
This smartphone has a typical quad-band HSUPA chip for data and voice, 802.11n Wi-Fi, and Bluetooth 2.1. There is a difference in data-transfer speed in the iPhone 4 compared to the iPhone 3GS, but it isn't that much of a leap.

The iPhone 4 is experiencing signal issues when you hold it in your hands, especially in your left hand. This is due to the iPhone's redesigned antenna. The conductivity of your palm is affecting where the two trim pieces meet, and as a result, the signal drops. As soon as the phone is set down, the signal returns to full strength. People that are using cases aren't having this issue, and it generally doesn't happen when you hold the phone in your right hand, only left.

Camera
The latest version of Apple's smartphone is the first with two cameras. The main camera sports a 5 megapixel resolution. That may seem low, but Apple has something called an illuminated sensor that is more sensitive to light. This increases the light being brought in, which raises the photon count, and the pictures are clearer.
As you can tell by the pictures in this review, the camera has a pretty good quality for it to be just a cell phone. I personally have always wanted the iPhone to have a camera good enough to replace a stand-alone point-and-shoot digital camera, and now it has. I was considering buying a nice new digital camera sometime soon, but don't see the need anymore.
There is no need to worry about low light situations, as the iPhone has a built in flash now as well.
As far as video recording quality goes, there are no complaints here for the 720p capture quality. Again, for a phone, this is above par. The only downside is the size of HD video and storage on the iPhone. An hour of recording is anywhere from 4 GB to 5 GB, which can add up if you don't sync back to your Mac or PC. You also can't upload that video in full 720p quality to YouTube unless you use the iMovie app, which is $4.99 in the App store. Otherwise, the quality won't be 720p. They had to get us somewhere, didn't they?
Battery life
Another big plus for the iPhone 4 is, despite being the thinnest smartphone ever created, the battery life hasn't suffered. Far from it, as Steve Jobs actually reckons it can last 40% longer despite the smaller chassis size.
And you know what - he may actually be (sort of) telling the truth here. Seasoned iPhone professional users will know that to use a couple of applications, watching a 30 mins of video, downloading new apps, run music through Bluetooth and also keep opening and closing it to perform other tasks is a real battery sucker, and usually means your iPhone won't see out the day.
Well, doing just that sat at our desk, we actually found that in a seven hour period, the battery only dropped 50%. It might sound a little drastic, but over the course of the day, when you're using the phone a lot less, this works out to be a much nicer figure to work with.
We actually found we didn't need to carry around a charger all the time when we were using an iPhone 4 - and even if you forget to plug it in at night, it won't be until sometime the following day it completely shuts down, which you have to applaud when you see how thin the chassis is here.
Of course, this isn't the all-encompassing fix we've all been waiting for in smartphones, as a simple hour's commute with push email, music and the camera all in use will drop things by about 10%, but that's not standard use.
This is helped by an all-new processor, the Apple A4 effort that's really good at not sucking down too much power even when performing those pesky multi-tasking tasks. We're impressed with Apple, as its iPhone range has gone from one of the worst on battery life to at least one of the better ones.
CONCLUSION
I'm pleased with the

iPhone 4

. It's hard to write complaints when Apple just keeps making the phone better and better.

Nowadays though, there is more competition than ever. I personally like competition, because then the companies strive to make the best product. The Droid X, EVO 4G, and the Nexus One are right up with the iPhone 4. If you can't get AT&T, those phones are great options. However, if you have AT&T now, the iPhone 4 is your best option.

Pros
Very high-resolution display
720p Video recording
FaceTime Video Conferencing

Cons
AT&T the only option
No 64 GB option
Wireless connection issues