The

Nokia Asha 305

is a touch-screen dual-SIM phone selling for a very affordable price, but as affordable as it is, the question lingers whether there is still space for feature phones as Android has pushed the envelope in budget devices and is now dangerously close in price.
The Asha 305 tries to counter that with a big surprise in the form of a brand new Series 40 interface inspired by smartphones, a 3-inch display and the big benefit of dual-SIM support, but there are a couple of things that throw it off from being a true competitor to a smartphone. Is it any good on its own, though? Read on to find out.
Design
Design-wise, the handset is defined by its compact looks, curvy back, cheap glossy plastic and two physical buttons up front. It is a relatively thick device weighing 3.45 ounces (98 grams), but we wouldn't hold this against such a compact gadget. Still, the phone comes with a huge bezel and lots of extra space in the casing that make it much bigger than what it could be.
We found the big volume rocker and lock buttons to be practical, and the microSD and second SIM card slots are placed

on the side

so you can swap cards without rebooting the device. Neat. Interestingly, this device features both a microUSB port and the standard Nokia 2mm port for charging the device, so you can use your old Nokia charger as well. On the downside, though, the glossy front catches fingerprints very easily.
Display
The Nokia Asha 305 features a

3-inch, 240x320-pixel resistive touchscreen

. The size is small, the resolution does not impress but those are all compromises we've come to expect from such cheap gadgets. What we are not so comfortable in this day and age is a resistive touchscreen. That's one big shortcut the handset takes and it cripples the experience noticeably as you have to get used to holding your finger longer on the screen to swipe and have things responding slower to the touch.
The Nokia Asha 305 is virtually all about the screen and that's why we feel that despite the low price of the device it deserves some criticism. Colors were bleached, viewing angles were sub-par and reflections were in the way when looking at the display outdoors. In a device that gets rid of physical controls, those cons can certainly corrupt your experience. Weirdly, we found no way to adjust the screen brightness so we were left stuck with the default setting which is not too bright.
Software
The biggest surprise in the Nokia Asha 305 is its brand

new Series 40 interface

. With a dropdown menu a la Android, three swipeable home screens a la MeeGo, it's an interesting amalgamation that reinvigorates the otherwise dated feature phone platform.
In a nutshell, when you unlock the device by swiping to either side of the screen, you arrive at

three home panels

. One is actually the app drawer, there is another one for shortcuts and a third one which you can customize to be the dialer (default), radio or music screen. Swiping down from the upper part of the display pulls the notification shade from where you can open the music player, see notifications and tweak some settings including the way your two SIM cards handle calls and data.
The

icons

themselves also get updated with notifications so you'd see a counter with all your new messages just above the messaging icon (why, hello, iOS!).
It's all neat and perfect if it wasn't so sluggish. The nice attempt to refresh the Series 40 UI bumps into the brick wall of inept hardware. A small but consistent lag is omnipresent and the frustration from using a resistive screen just doesn't go away. We can try and console ourselves by remembering how affordable the phone is, but if you do care about the fluidity of an interface, you won't be happy with the Asha 305.
Another thing worth mentioning is that the device comes with a multi-tap T9

keypad

in portrait mode and a full QWERTY keyboard when switched to landscape orientation. We had no issues typing on those despite the relatively small size of the screen.
Dual-SIM functionality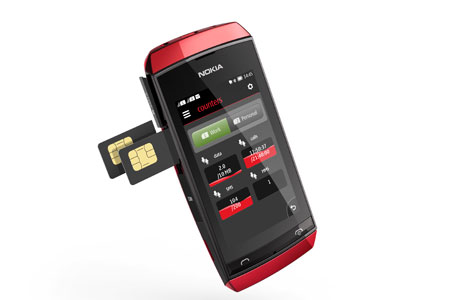 The pinnacle of the handset however is not just its affordability - it's affordability plus

dual-SIM functionality

. Now, while Android is indeed breathing in the neck of feature phones and the Asha 305 in practically every way, it's still not close when you look at Android dual-SIM devices that are nearly two times more expensive. If the presence of two SIM slots is essential, this will be the reason for you to consider this device.
First, we should note that you need to have one SIM card placed under the battery that will act as your main SIM. Once you have that in place, the second SIM card is hot swappable - you open the tray on the side of the device and change cards to your heart's content without the need to reboot the device.
The two SIMs come with all the options you'd expect. First, you can save contacts to either SIM 1, SIM 2 or the phone memory. You can further set defaults so that the phone uses one of the SIM cards for say calls, and the other for data. There are the four categories you can choose from - calls, SMS, MMS and data. Each of them could be assigned to one of the SIM cards, and if you don't want to set a default, the phone would ask you every time you perform one of those SIM-related actions like calling or texting.
Internet and Connectivity
Internet and connectivity are Series 40's weakest sides, so don't get your hopes too high about browsing much on this device. The first problem you'd encounter however is not the browser itself, but the

lack of both 3G and Wi-Fi connectivity

whatsoever. Yup, it's back to GPRS/EDGE that max out at the snail fast 236.8Kbps. We should also mention that the phone is dual-band, so it won't work in all parts of the world.
Once you've swallowed that 2G pill, you can head on to the

browser

which is utilitarian. It supports tabs but it loads pages slowly and doesn't support multitouch. You can zoom in a page to a certain fixed level, but everything from zooming to scrolling is painfully slow and frustrating.
The one notable feature missing is GPS. You still get Nokia Maps with Navigation but you'd need to rely on triangulation from your carrier cell towers rather than accurate satellite positioning system.
Camera
The Asha 305 comes with a basic

2-megapixel fixed-focus camera

with an accent on basic. If you don't have unreasonably high expectations, the images actually turned out decent for this type of device. We would only shoot during the day as noise will start to get really noticeable when it gets darker, but otherwise the camera captured colors relatively accurate with some troubles in highly contrasted scenes.
Multimedia
When it comes

video playback

, the handset does have a video player, but the experience is far from perfect. The small, dim and low-res screen is the first thing you'd have to deal with. We could only play back video at the native resolution and it played okay.
Music

is a different story. The loudspeaker on this thing gets pretty loud and ample, with a rich in options media player that would let you create playlists, shuffle your favorite songs and others.
Another thing we should mention is the gift of

40 EA games that come for free

when you get this Nokia device. You'd need to register on the app catalog to get them and at first you'd be impressed to see titles like Need For Speed, FIFA and Tetris. Well, when it comes to those graphical games like NFS and FIFA, they really are very basic versions with little graphical punch and often lagging, but still free. The simpler ones are fun.
In terms of internal

storage

you get the measly 10MB on board, but luckily there's a microSD card slot, so you can expand with a card of up to 32GB.
Call Quality
Sadly, we weren't happy with the microphone on our device - our callers reported hearing our voice severely distorted and damaged. Volume was not an issue, though, and things were slightly better on our end of the line.
Battery
Having a feature phone like this grants you one advantage (probably the only one) over the smartphone crowd - battery life. Even with its paltry

1,110mAh battery

, the Asha easily gets through a couple of days without ever looking at the charger. The handset remained alive on low battery for nearly a day and it's juicer is officially rated for 14 hours of talk time.
Conclusion
With all above said, you probably already got a sense of what type of a device the

Nokia Asha 305

is. Cheap. With all the implications of the word. From the cheap plastic up front to the somewhat sluggish performance that mars the good interface ideas in the new Series 40.
As a compromise-driven device, it's the budget-savvy customer that it appeals to most. While we found some Asian retailers offering it for lower prices, in Western European markets it retails for over $110.
There are some dual-SIM Android phones from less known makers like the Gigabyte Gsmart G1315 that actually cost as much as the Asha 305, but comes with a bigger and capacitive screen and all the benefits of Android.
Also, in its own category of dual-SIM feature phones, there is the Samsung Star 3 Duos selling for nearly the same price, but with a much more convenient 3-inch capacitive screen.
We would gladly sacrifice the two SIM slots for an actually decent low-end smartphone. Add in $10 or $20 and you jump into budget-smartphone territory with devices like the

Samsung Galaxy Pocket

and

Galaxy Y

which are better than the Asha 305 in absolutely every way you can imagine except for the dual-SIM card support.
PROS
Cheap

Series 40 UI refreshed, looks much better
CONS
Resistive touchscreen cripples the experience

Device feels underpowered, lags

No Wi-Fi connectivity