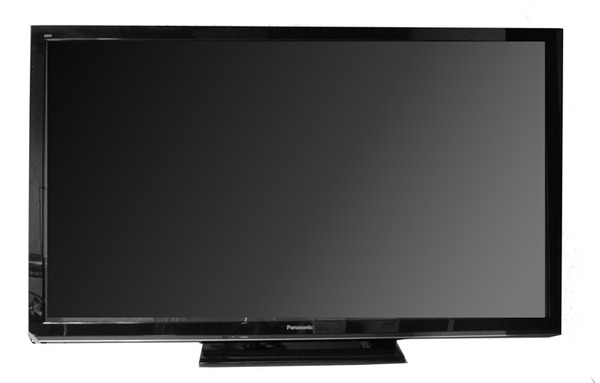 The TC-P50U50 is a budget plasma from Panasonic. It is, in a way, a spiritual successor to 2009's

U1

series, albeit a modern, improved version. The U50 series is also the only series in 2012 to support neither internet access or 3D viewing. It is the meat and potatoes Panasonic for 2012.

Panasonic tends to produce simple low-end plasma televisions that feature deep blacks and modest "variable" features, such as where input ports and interface customization are concerned. The TC-P50U50 is a testament to that tradition. For under $1000, getting a 50-inch plasma is not a bad deal. However, there are some negative quirks to this model—such as its poor viewing angle, and inability to swivel—that consumers should be wary of.

This TV is certainly not overpriced, and it might prove difficult to find a better plasma at the same cost.
Design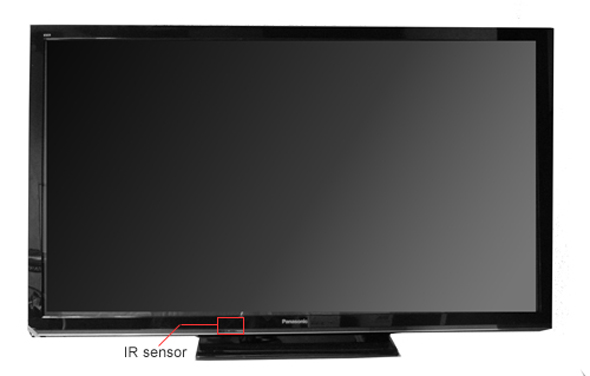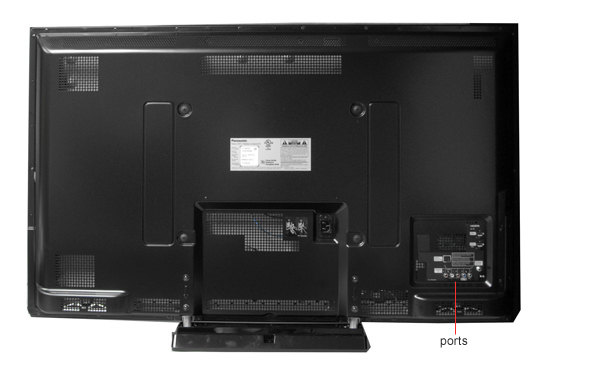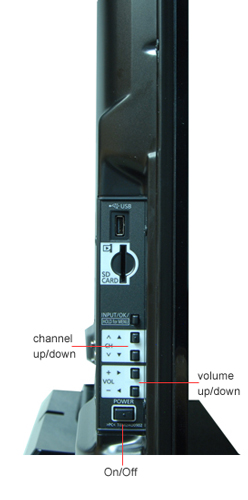 There's nothing very surprising about the U50's design. The 50-inch panel is balanced squarely upon a plain, black plastic stand—you know, the kind that tends to gather fingerprints like a rich man gathers friends. The stand is affixed to the panel by two rounded, metal rods, so as long as your screws are tight, the TV promises to be sturdy. Unfortunately, that sturdiness comes at a price: namely, a glaring lack of flexibility. The P50U50 does not swivel, which we find to be a hugely lamentable oversight, especially by today's standards for HDTVs. While there aren't a lot of ports to speak of, the U50's two HDMI inputs are located on the back of the TV, rather than the side, and a little swivel would be a welcome addition to be sure.
Design components aside, this TV is very average looking. Its bezel, like its stand, is black plastic, giving way to a rounded metal back that feels strong, yet strangely hollow. Almost all of its major ports are located on its back, though there aren't many of them. The left side of the TV is where you'll find the controls—which are quite easy to use—and a single USB port for playing back your pictures and music, as well as the now ubiquitous Panasonic SD card slot, which Panasonic continues to include as a way to boost their sales of Panasonic brand SD cards. We think that's a silly reason to include a port that doesn't do anything that the much more consumer-friendly USB port doesn't already do.
Remote Control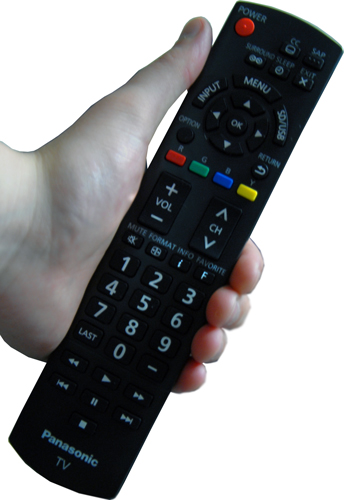 The P50U50's remote control is the standard remote for their 2012 TVs that don't have any internet features. It's easy enough to use, but despite the TV's simple design, the remote has an awful lot of what we would call "extra" buttons. There are hotkey buttons for accessing the SD card and USB card, input selection, toggling surround sound, toggling closed captions, and toggling aspect ratio. This isn't a bad thing, as it all but eliminates the need to use the TV's main menu.
Connectivity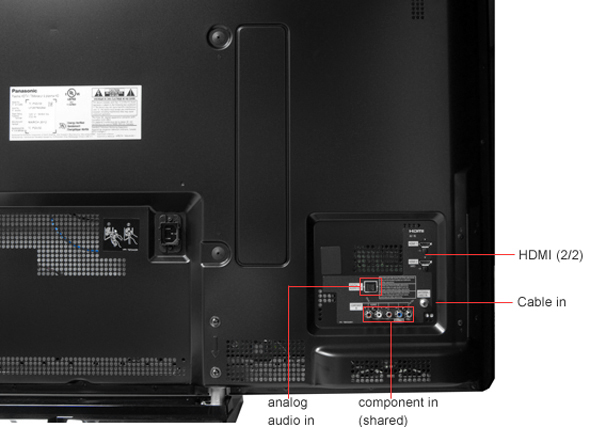 There are ports located on the back and the left side of the TV, and they are essentially just the bare necessities needed to operate a standard array of connected devices, such as a video game console, or DVD player, or to outsource the TV's audio to an external speaker system. There is no ethernet cable input, of course, because the U50 series does not support any internet features. Here you'll find 2 HDMI inputs, analog audio, and a shared component input. Like we said, very basic.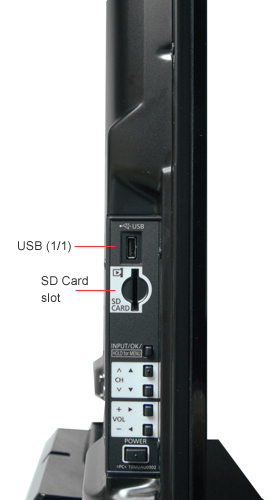 On the left side of the TV, you'll find the on-set controls, and above them, a single SD card slot and USB input. The USB slot is meant for picture, video, and music playback, but also serves as the doorway to potential firmware updates. The SD card slot would be useful for browsing pictures directly from a camera, or for accessing data stored on some other portable device. Frankly, it seems unnecessary when paired with the USB input.
The port placement on the P50U50 follows a standard set-up, with "access" ports—the SD card and USB input ports—located on the more accessible side of the TV, and device connection inputs, i.e. HDMI and component AV, tucked away on the back of the TV. A smart port design, in our opinion.
Interface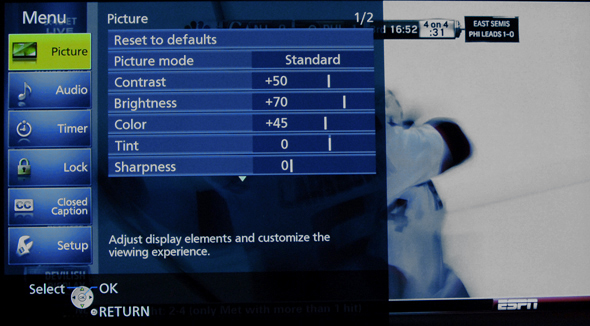 Pressing the "Menu" button on the remote, or holding the "OK" button on the on-set controls, will bring up the main menu for the Panasonic TC-P50U50. Within, users can adjust the settings for Picture, Audio, Timer (screen dimming, auto off, etc.), Lock (to prevent menu access via a 4-digit password), Closed Caption, and Setup. Some of these menu tabs seem redundant, as though Panasonic just wanted to make the menu fill the vertical width of the screen to mask how simple this TV is. Make no mistake: it'd be hard to get lost in a menu like this.
We like that the menu is fairly streamlined and easy to navigate, and that the TVs treble and bass audio settings can be adjusted.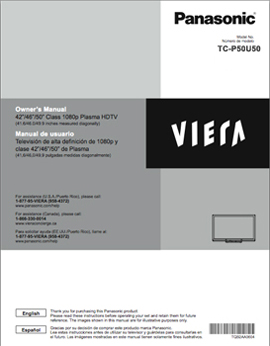 The instruction manual that comes along with the P50U50 is a simple, black-and-white affair. It has pictures for assembly and a detailed guide to the remote, as well as an extensive section on the TV's VIERA Link capabilities.
Features
I could spend a lot of time enumerating the many options this TV doesn't have, but it's easier to list its few features. The main one is 1080p resolution, which accounts for the fact that its price is almost identical to that of the Smart TV- and 3D-compatible, yet only 720p,

TC-P50XT50

. Resolution also appears to be the main difference between the U50 and the even-cheaper 720p

TC-PX5 series

.

The more expensive UT50 includes Smart TV, 3D, 1080p resolution, and dejudder (smoothing) among its main step-ups above the U50 being reviewed here, as well as a couple of relatively minor picture quality advantages
Key TV features
Display technology, Plasma
LED backlight, N/A
Screen finish, Glossy
Remote, Standard
Smart TV, Yes, No
Internet connection, Wired, Built-in Wi-Fi
3D technology, N/A
3D glasses included, N/A
Refresh rate(s), 60Hz, 48Hz
Dejudder (smooth) processing, Yes, No
DLNA-compliant, No
USB, Photo/Music/Video
Comparison models (details)
| | |
| --- | --- |
| Panasonic TC-P50UT50 | 50-inch plasma |
| Samsung PN51E550 | 51-inch plasma |
| LG 50PM9700 | 50-inch plasma |
| Toshiba 50L5200U | 50-inch LED |
| Vizio M3D550KD | 55-inch LED |

Picture quality
In a word, "Excellent." The U50 earned the same subrating of 8 we awarded to its step-up brother the UT50, putting it in rarefied company no other TV in its price range can approach. Color and black levels were as good as the UT50's, although its video processing and bright-room picture were worse. Those two issues provide very good reasons to invest in models like the

Panasonic TC-P55ST50

or

Samsung PN60E6500

plasmas or, for the plasma-averse, one of the better LEDs.
Black level
The entry-level U50 is capable of producing as deep a shade of black as any Panasonic plasma we've tested, with the exception of the flagship TC-P65VT50. Its inky-black chops were immediately apparent in the opening sequence from "Tree of Life"; the blackness surrounding the orange illumination was as dark as that of the UT50, and darker than any other TV in the lineup managed, including the Vizio and the Samsung E550. The breathtaking spacescapes at the beginning of chapter 4 provided another example, where the blackness of the void on the two Panasonics made the images pop as on none of the others.
Although the U50 and UT50 couldn't quite match the light output of the other sets in our measurements, the difference was almost impossible to spot in most program material. In brighter areas, like the sheets, shades, and white walls in Jack's bedroom and house (chapter 3), they weren't any dimmer than on the other TVs, either to my eye or to my handheld light meter. Only when the screen turned mostly white, such as when the camera follows Jack's wife upstairs and a white wall occludes a good portion of the screen (12:44) or during a shot of mostly white sky (13:27) did the U50 get dimmer than the Samsung -- and even then the difference was very subtle.
The Panasonics' shadow detail was very good, surpassing the others in the lineup. The face of Mrs. O'Brien kissing young Jack in bed (48:23) had plenty of definition and no murkiness, for example, while the other sets, especially the LEDs, obscured these areas somewhat.
Color accuracy
Despite lackluster grayscale measurements the color of the U50 looked quite good in person, with excellent balance and no "push" toward one primary color or another. The delicate skin tones of Mrs. O'Brien (8:08) looked natural, if a bit too pale and reddish-green compared with the Samsung's. Its saturation, as evinced by the grass in the yard for example, was also slightly less rich than either the Samsung or the Vizio, but still very good. The U50 and UT50 showed almost identical color to my eye.
As with other Panasonic plasmas I also appreciated that black and near-black areas remained neutral and didn't veer into blue or green, like the LEDs in particular did.
Video processing
Unlike the UT50, the U50 couldn't properly reproduce 1080p/24 film cadence when set to its standard (60Hz) mode. Instead, the pan over the Intrepid from "I Am Legend" (my standard cadence test) appeared halting and choppy. I tried the 48Hz mode but as usual it flickered too much for me to tolerate, albeit a bit less than the UT50's 48Hz mode, for some reason.
The U50 lacks a smoothing dejudder mode, which is no great loss in my book, but that means it couldn't match the maximum motion resolution of the UT50 in our tests. No matter -- program material was as blur-free as ever to my eyes.
Bright lighting
The U50's picture quality takes a downward turn as room lighting gets brighter, and is one of the worst TVs we've seen this year at combating ambient lighting. Its screen finish looks gray under moderate lighting, and as a result the image washes out to an even larger extent than the UT50's. It doesn't help that both plasmas can't be "turned up" bright enough to really compensate, nor that both created bright reflections of in-room objects.
The Samsung's screen finish wasn't any better than the U50's, although its post-calibration image was brighter, so that helps. The LG, Vizio, and Toshiba all were significantly better at both preserving black levels and rejecting reflections.
Power consumption
The U50 uses about as much juice as its 50-inch plasma brethren, which is more than three times what a typical 55-inch LED TV needs. As usual its Standard picture mode is vanishingly dim, which accounts for the relatively low default power usage. That low default power use is also the reason this TV

qualifies for Energy Star 5.3

, while

55-inch and larger plasmas do not.
Conclusion
We definitely enjoy reviewing a TV that's got all kinds of bells and whistles. Playing with smart features, motion control, and 3D settings is great, but there's something to be said for running a simple, no-frills TV through our gamut of testing. TVs like the P50U50 have no gimmicks or extraneous functions to hide behind, and are—in a way—the purest representation of a company's ability to produce a TV with solid core performance.
With that in mind, we were very pleased with the Panasonic TC-P50U50. While it doesn't have much to offer in the way of connectivity or customization, its performance proved it to be a viable alternative. It's good to know that, for a comparably cheap price, consumers who just want a strong plasma—who have no desire to yet test the waters of 3D, and who don't want to pay the extra money to clumsily browse websites via a television browser—have the option.
The P50U50 sort of feels like an afterthought on Panasonic's part. It's the only size in the series, by far the most basic television they'll produce this year. It's also the only TV in their entire line-up that doesn't have 3D or internet. However, it's a good example of what their TVs can do when left only to the realm of contrast/color performance: the P50U50 boasts one of the deepest black levels we've seen in a long time, and it's got strong—though imperfect—color accuracy.
If you're in the market for a "classic" plasma—50-inch screen, dim whites, deep blacks—the P50U50 (MSRP $899) might be your best choice in 2012.