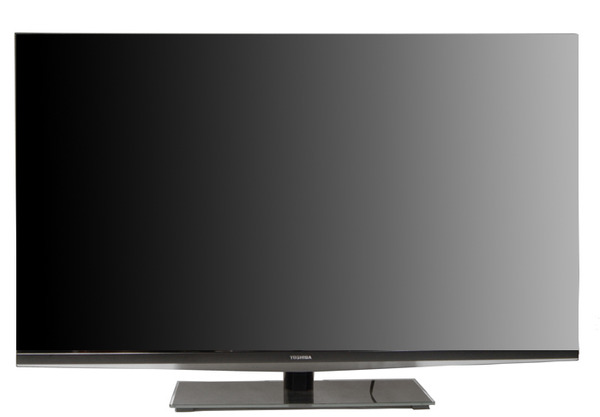 The L7200U Cinema Series is Toshiba's top-of-the-line flagship for 2012. The 47-inch model is a 3D, Smart, edgelit-LED HDTV that does a lot for an MSRP of $1,899. Compare that to Samsung's 46-inch ES8000, which is over $1000 more expensive.

The 47L7200U is a sleek, attractive TV. It has a few interesting new functions, what Toshiba calls TriVector™ 2D to 3D Conversion, Dual-Core Cinema Quality Engine™, and a side-mounted IR flasher for linking infrared devices, such as a Comcast cable box, to the TV's MediaGuide function. That's a lot of branded technology.


Toshiba is taking strides to innovate within a market that is currently experiencing a competitive drive to push TVs to the next level of functionality. 3D, Smart functions, and accessories (like motion remotes or USB keyboards) have all been improved upon, and will soon be as much a part of the standard TV purchase as power windows are on a car. Bad news for technophobes.

Within this whirlwind of dual-core processors and improved interfacing devices, we're vigilant in putting our boot down and demanding that just as much attention be paid to the TV's color integrity, motion smoothness, and an ease of use that is as intuitive to consumers as it is to professional calibrators.

The Toshiba 47L7200U, with so many trademarked phrases in tow, is a surprisingly simple TV. It's got some of the best performance parameters of any TV we've reviewed so far this year, and it's clear that Toshiba put a lot of time into making sure it had the best color, contrast, and motion smoothness possible. Unfortunately, it's also clear that they skimped out on the menus and internet content—it's got the plainest

smart platform

out of any we've looked into.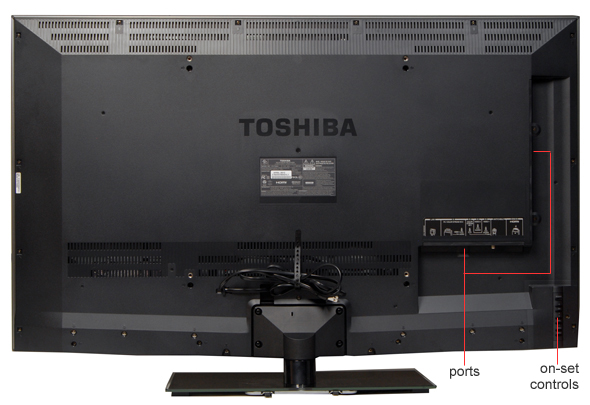 Toshiba has been manufacturing electronics equipment since the early 20th century, and their
parent companies
since well before that. Our point is, they've got a lot of experience, not just with the technology inside the devices, but in making the outside of the devices look minimalist, clean, and efficient. We think they've done a good job achieving that with the 47L7200U.
Lately, HDTV stands have been going in one of two directions: either the
metal branch
support rod or your standard
black hunk of plastic
. That's why we're so pleased with the subtle way Toshiba made the L7200U's stand interesting. You've got your usual black rectangle, but it's got glass laid over the top of it. Might not sound like much, but it's a little kiss of class that made us blush (figuratively!). In fact, the entire Aero design is based around glass: the stand, of course, but the bezel itself is also entirely glass, ending in a swooping silver band along the bottom of the TV called the "Aero Wing."
Outside of the glass touches, the 47L7200 is a thin, plain TV. It truly does have almost no bezel, but this isn't anything new in 2012. The ports, inputs, and on-set controls are tucked away behind the TV, giving it the appearance of elegance without confounding its true purpose: televising. We think you'll like grabbing an eyeful of this TV. It's hard to argue with its attractiveness.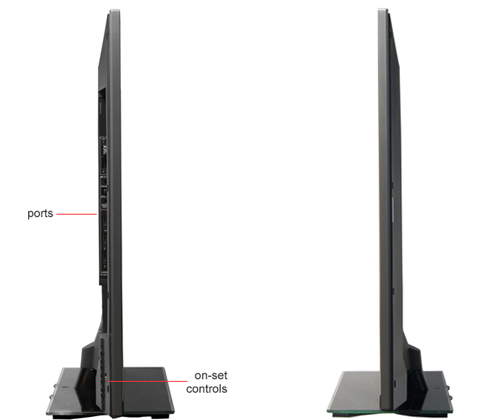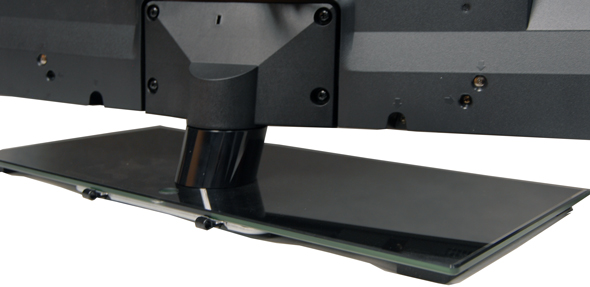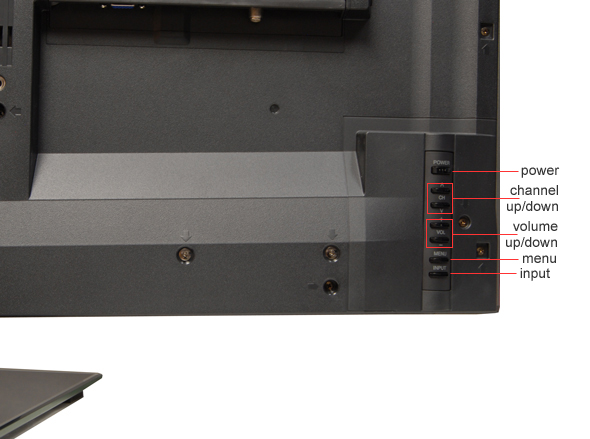 Remote Control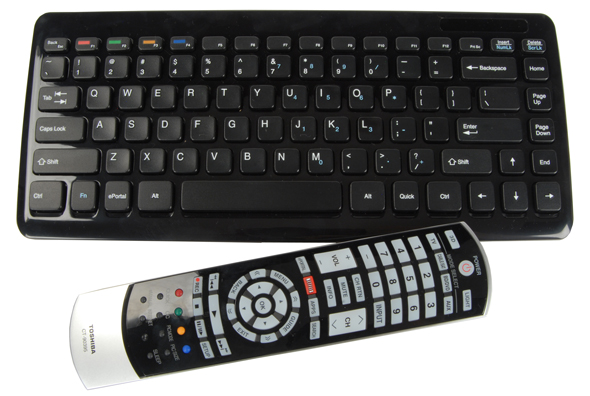 The 47L7200U comes with two decent interfacing options. The first, which Toshiba calls the Illuminated Universal Remote Control, is an ergonomically sound remote control that's got plenty of buttons for navigating all of your settings, media, and Smart menus. It's a large remote, but is easy to hold, featuring a central navigation hub and big volume/channel buttons.
The second, a USB bluetooth keyboard, is a great addition where any on-screen typing is concerned. While the new Magic and Smart Touch remotes have made typing on a TV screen a little easier, nothing beats a keyboard for speed and efficiency. Switching control schemes between the infrared remote and the bluetooth keyboard is as easy as pressing a single button, and being able to type in a URL in the TV's browser is much better than the alternative of selecting letters one at a time.
However, we feel that Toshiba could have followed a path blazed by
VIZIO
back in 2010 to fold their universal remote and keyboard peripherals into the same controller. It probably would have made for cheaper production on their end, and given consumers like us (and you) less to keep up with. Just our opinion, though.
In the box, you'll find the Illuminated Universal Remote Control (CT-90408), 2 AA batteries, a resource guide, a quick-start guide, wireless QWERTY keyboard and its 2 AAA batteries, 3 AV (splitter) cables, 1 IR blaster cable, four pairs of Passive 3D glasses, and warranty information.
The Toshiba 47L7200U ships with 4 pairs of Toshiba's passive 3D glasses. They are stiff, inflexible, and uncomfortable. They are also probably the worst part of Toshiba's 3D experience.
Where after-the-fact 3D conversions are concerned, Toshiba's branded TriVector 2D-to-3D technology is actually quite good. We triggered it on some standard broadcast content. It doesn't make a huge difference, and we didn't expect it to, but its effect on the TV's menu system was so good it made us wish we had some way to photograph it. We felt we could reach out and touch the menus. It's just a shame it doesn't do as much for actual content.
Unfortunately, this is where the joy ride ends. The L7200U's native, full 3D content doesn't look much better than your average 3D circa 2011. Back- and middleground effects were acceptable, but the pop-out passive 3D effects (what most people might think of when they think of 3D) were riddled with crosstalk.
We recommend watching something subtle, or making use of the TriVector conversion. The full 3D experience just isn't anything to write home about.
Decent 3D in terms of color integrity and ease of use, but keep it subtle or you'll be seeing crosstalk in your dreams.
3D Effect & Experience (4.25)
We feel that, overall, Toshiba's done an alright job implementing 3D into the L7200U Cinema Series. We always appreciate included glasses—as uncomfortable as these particular glasses are—and a solid 2D to 3D converter is a nice way to make use of your free glasses and 3D technology without investing in a 3D Blu-ray player or 3D Blu-ray discs. We don't recommend that you do that, by the way, as native 3D isn't very convincing. The immersion is broken by considerable crosstalk, despite the solid contrast/color that the L7200U maintains during 3D showings.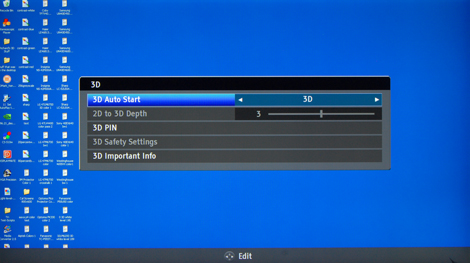 Toshiba really needs to take a page out of

LG's

book where glasses design is concerned. We tend to prefer passive 3D glasses for their ease of use/setup, but also tend to prefer leaving our snooty, high-brow nasions intact; Toshiba's stiff 3D glasses lack any kind of padding or comfort wall between you and their unforgiving frame, and seem to prefer otherwise.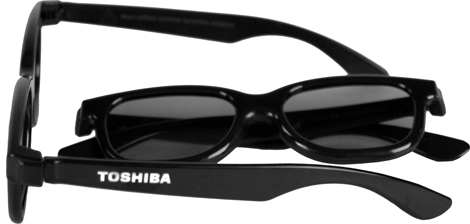 3D Contrast (4.90)
As you can see from the chart below, the L7200U's maximum contrast ratio is more or less halved during 3D viewing. You can expect this to cut down on total viewing angle and on the crispness of differentiation between black and white, but it's to be expected when you're watching TV, and wearing what's really just a fancy pair of sunglasses, while doing so.

3D Color (8.24)
We were very surprised here, as the Toshiba 47L7200U may be one of the only TVs we've ever tested to have less visible color temperature error during 3D content than during normal 2D viewing. As you can see from the chart, there's very little color temperature error overall, and just a touch of visible deviance from the 6500° K standard.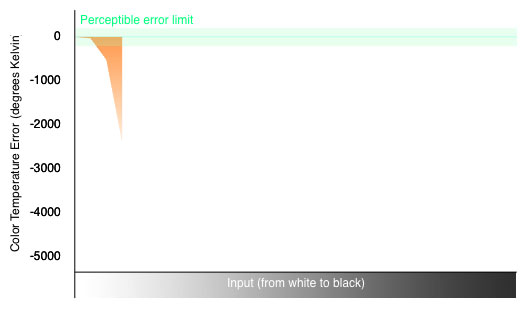 These curves are choppy when they're ramping normally, and when they're smooth, they're ramping too quickly or too slowly. Any way you cut it, your sRGB curves get royally skewed during 3D viewing. We sort of expect this—it'll probably be a few years before 3D technology doesn't wreck your color production—but it's still a shame to see it in action.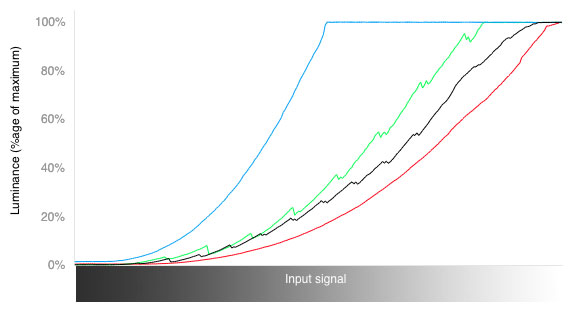 Like its

2D color gamut

, the 3D gamut is actually very accurate (for a 3D gamut). Even its white point didn't miss too badly—though to be fair, the 2D white point was also off the mark. Overall, this is a good showing for a 3D color gamut, and a good reason to indulge in some 3D content.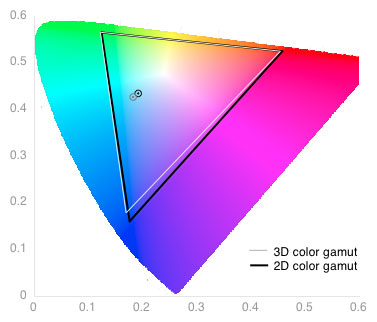 3D Crosstalk (15.22)


Maybe we're just spoiled by

LG

and

Samsung,

but we felt the crosstalk problems exhibited in this Toshiba's full/native 3D viewing were unacceptable. As usual, more subtle 3D effects were perfectly fine, but the "pop-out" kind made us want to switch back into 2D viewing.

It wasn't terrible, but 2012 has set us up to expect more out of TVs in terms of crosstalk, or rather, lack thereof. Some of this may be related to the flat, inflexible lenses on the glasses. The human eye follows a steady curve, and Toshiba's glasses really only convince the front 30% of the pupil—if we had to guess, we'd attribute a lot of the crosstalk problems to the glasses, as our objective crosstalk test revealed that the TV itself is actually above average where crosstalk is concerned.
Software & Internet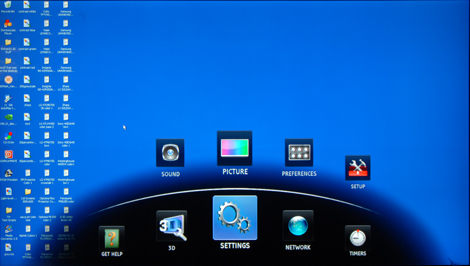 The term "flagship" refers to the best of the best of a company's products. When Toshiba announced that the L7200U Cinema Series was their flagship series for 2012, we naturally assumed a number of things: lots of features, high quality, and a heavy price tag. So we were fairly surprised to find out that you can buy this TV for a little under $2000. But we were even more surprised by how little content its smart platform had to offer.

Compared to the smart platforms offered by LG,

Samsung

, and even

Panasonic

,Toshiba's content offering within ePortal, the name of their smart content menu, is tiny. From the ePortal, users can access all of their personal media for playback, the built-in internet browser, and a paltry selection of apps. We're talking, like, six or seven apps. And no apps store. While so little content hardly merits it, we went ahead and detailed the whole shebang in our

Toshiba's 2012 Smart TV Platform

article.

As for the basic menus, they're very… basic. They get the job done, and are nicely allocated to the lower portion of the screen on a lazy Susan style wheel. We also like that Toshiba has included a handy bluetooth keyboard to streamline the typing process—if you're not going to adopt an infrared remote, a keyboard is almost essential to browsing the web on a TV.

It's not a terrible showing, but Toshiba clearly put more emphasis on performance than features.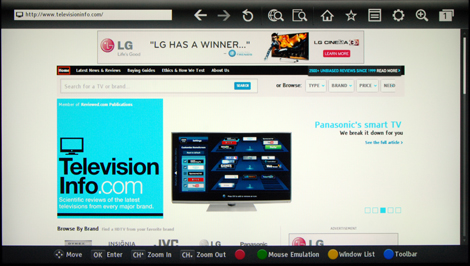 We were very impressed with the Toshiba 47L7200U's test results. The most important aspects of a TV's core performance are color reproduction, contrast, and screen related attributes—namely viewing angle and smooth motion. The L7200U tested with some of the best color curves we've seen in a while, and showed us an almost perfect color gamut. Its contrast ratio was well within acceptable range where LCD TVs are concerned, and its motion performance was as smooth and flawless as many of the plasmas we've tested this year.
The Toshiba 47L7200U may be a 3D Smart TV with all the extra features you'd expect from a company's flagship, but it's also a strong, solid performer where it matters most.
Standout Features
Full 1080p, ClearScan 240hz, Edge Lit LED w/ local dimming

Passive 3D with trivector 2D to 3D conversion

CQ Video Engine (Dual Core)*

New Aero "Bezel-less" Design w/ black glass table stand

2-Way Ported Speakers w/ Audyssey Premium Suite Sound Enhancement

Smart TV with ePortal w/ Open Browser, MediaGuide, & Tablet/Smart Phone Control Apps

Built-in WiFi

Includes QWERTY keyboard (wifi)

HD PC input
The Toshiba 47L7200U (MSRP $1899) is an odd entry into 2012's expansive array of 1080p, Smart, 3D HDTVs. Not because of what it does, but because of what it doesn't do.
From a performance standpoint, it's a high-quality product. Its contrast, color, and motion performances were—combined—possibly the finest showing out of any TV we've reviewed this year. It's got a decent viewing angle, and will likely please hardcore TV fanatics as much as it will satisfy family movie nights. A TV this fine, with a 47-inch screen, being sold at an MSRP of $1899? Toss in the winning remote/keyboard combo and ample connectivity options, and it's hard not to recommend the L7200U.
But what gives us pause are the features that many companies—LG and Samsung, for example—are focusing on this year. Namely, 3D and Smart content. The Toshiba excels by traditional performance parameters, but it's lacking severely in those two areas. Its TriVector 2D-to-3D conversion technology works well, but the full 3D experience was crippled by crosstalk, and the included glasses were very uncomfortable, almost unwearable for long periods of time.
So this TV's value really comes down to personal preference. If you'd like the "option" of 3D and a limited smart platform, but don't want to shell out the money for one of Samsung's higher-end models, the Toshiba is a high-quality TV, and is cheaper than comparison models. However, if you're buying to get into the new features like 3D and streamlined internet browsing, there are much better TVs out there for that purpose.