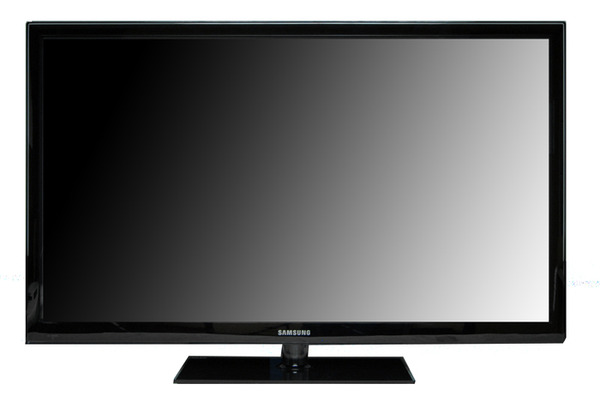 This is an active 3D value piece from Samsung with an excellent array of features. It does not get the full benefit of all of Samsung's picture quality features but the PN51E550 does have full 1080p resolution. The up conversion processing from standard definition sources is not as crisp as it is with some of the better processing chip set TV on the market, but it's OK. The Smart Hub feature with Internet options is a new feature to this TV as well. Overall, it's a value low priced play with some extras. It doesnt have the refined looks of the best 2012 TVs, but it would have looked darn good 2 years ago when all we saw was black shiny gloss plastic bezels. These lower end Samsung plasma TVs have gotten very good-looking.
Design
Not much separates the unadorned PNE550 from the ranks of me-too black-clad TVs out there, but the accents it offers are tasteful enough to place it in the same league as the Panasonic UT50, if a notch below Samsung's higher-end plasmas like the

PNE6500.

Compared with the latter's thinner textured charcoal bezel, the glossy frame around the E550's screen seems plain and slightly chunky, although the strip of transparent edging, echoed by the glass top of the stand, lends minor panache. The most notable dash of flavor is another familiar Samsung touch: a clear cylindrical pillar supporting the panel and allowing it to swivel.
If you're keeping track, the PNE550 and PNE6500 share the same panel depth (2.2 inches) and both are slightly thicker than the step-up PNE7000 and

PNE8000

models (1.9 inches) in Samsung's lineup.
Samsung's remote is not among my favorites. The tight grid of buttons lacks sufficient visual differentiation, less important keys like "search" and "MTS" are too prominent, and the central Smart Hub button is annoyingly just a logo. On the plus side there's full backlighting, and the cursor pad's curved directional keys make finding and using it by feel a cinch.
Models in series (details)
Samsung PN51E550

51 inches
Samsung PN60E550

60 inches
Samsung PN64E550

64 inches
Features

The E550 is Samsung's least-expensive plasma for 2012 to offer Smart TV and 3D, putting it on a features par with the

Panasonic UT50

, for example. Those extras, and the option of a 64-inch size, are the main things separating the E550 from the less-expensive

Samsung E530 series

. The more expensive E6500 series, meanwhile, touts an improved panel: "Real Black Pro" on the E6500 versus "Real Black" on the E550. The 6500 also has a few extra picture settings over the E550, although it too lacks a 64-inch size.

Like all Samsung 3D models, and unlike other major-brand TVs that use

active 3D technology

, the PNE550 actually comes with 3D glasses. Two pairs are packed into every box. They're the

SSG-3050GBs

from 2011, not the newer

Samsung SSG-4100GBs

from 2012. Both retail for a scant $20 and they look exactly the same -- the main difference is that the 2012 glasses support the

universal standard

, so they work with universal-certified 3D TVs like 2012 Panasonics. Check out my

2012 3D glasses comparison

for more information.
Key TV features
Display technology
Plasma
Internet connection

Built-in Wi-Fi
3D glasses included

2 pair
Refresh rate(s)

96Hz, 60Hz
Dejudder (smooth) processing

No
DLNA-compliant

Photo/Music/Video
Other

Optional wireless keyboard with touch pad (VG-KBD1000, $99)
Smart TV

With the exception of

Google TV

, Samsung's Smart TV platform is the most content-rich and capable on the market. Its big Achilles' heel, aside from its cluttered interface, is lack of Amazon Instant, a service found on Panasonic, Sony, and Vizio TVs, but not LG's this year.

Otherwise the available content is superb. The big standout is HBO Go, available on no other brand of TV so far. It launched in early August for 2012 models, so this is the first chance I've had to test it. In short, it's great. The video quality was excellent over my Wi-Fi connection in the lab, with sharp details and very few compression artifacts visible in the shadowy areas and gradations from an episode of "Game of Thrones," for example. As with all video-streaming apps, Samsung allows full picture adjustment.

Samsung's HBO Go interface improves upon

Roku

's. It's designed around persistent vertical menus to the left of "pages" as you delve into the content. The search function is appropriately prominent, and browsing long lists is easier since the layout relies less on big thumbnails and clicking through. I'm not as familiar with the

HBO Go app on the Xbox 360

, but my CNET colleague Jeff Balakar's quick impression was that he liked Samsung's app better than Xbox's, lauding its improved speed and intuitive navigation.

Another unique addition is the Fios TV app, which allows Verizon Fios subscribers to access a few live TV channels and select on-demand content with no attached box required. It's cool in concept, but the sparse selection (no local channels, and ESPN News instead of regular ESPN, for example) means it's no substitute for an actual Fios box attached to the TV. I didn't test this service since live TV requires the TV to be connected to a Fios router, and that service is still unavailable at CNET's offices.

Samsung offers just about every other mainstream non-Amazon video service, as well as numerous niche video options like TMZ, The Daily, AOL On, Digital Theatre, Demand the Outdoors, Samsung's MediaHub, and a 3D-specific app (the latter two with little worthwhile content compared with mainstream options). We're also happy to see the newly added vTuner Internet radio app join Pandora and subscription music via Mog. Other offerings include a 3D photos app, images from National Geographic,

MTV Music Meter

, and ESPN ScoreCenter, as well as umpteen less-impressive paid and free games, educational apps, screensavers, and so on. The E550 lacks the

cloud gaming app

(currently in closed beta) found on higher-end Samsungs.

Samsung also has a few relatively rich proprietary apps, like Family Story, which is a way to "share photos, memos, and family events stored in the cloud," Fitness and Kids (both with custom VOD), and a Social TV app combining Facebook, Twitter, and Google Talk in a bar alongside live TV. There's also an AllShare Play app that manages DLNA and USB media files and can also

grab files from the cloud.

Samsung still boasts the best browser I've tested on any TV, although it's slower and more frustrating to use than the browser on a laptop, tablet, or phone. That's partly because it depends on the TV's standard remote control; when I tried it with Samsung's Bluetooth keyboard the experience improved immensely. If you're thinking of getting the keyboard, be aware that its alphanumeric keys didn't work with the apps I tried (HBO Go, Netflix, Hulu Plus and YouTube) so it won't help ease searches much there.

Our favorite proprietary app is Your Video (pictured above), because it features a cross-app search that can now hit Netflix in addition to Vudu and CinemaNow. It also works with the keyboard, unlike the native Netflix app. HBO Go and Hulu Plus don't show up in its results, however, and neither do your own TV listings. It shows other information, too, like biographical and production notes, acting as a sort of IMDb Lite. There's a separate "search all" option that hits local files (DLNA/AllShare), Your Video, YouTube, Facebook, Samsung Apps, history, and the Web browser -- and happily you can disable any of those search targets.

Samsung's Smart Hub interface tends toward crowded and overwhelming. You can only customize the bottom half, and even then many of the icons can't be deleted. While response time could be speedy, I occasionally encountered hitches and balkiness (in my experience the dual-core Samsung sets aren't much better). I prefer the simpler look and customization of Panasonic's interface, for example, but there's no denying that Samsung's is more advanced.

Picture settings: Still with me? OK, this will be brief. Samsung offers a good selection of picture settings but the E550 is bereft of more-advanced options found on the PNE6500, namely a color management system and 10-point grayscale. You do get a 2-point system as well as gamma presets, though. Just three picture modes are on hand, but that's plenty in my opinion and they're all adjustable. The CinemaSmooth mode makes an appearance but doesn't seem to do anything (see below).
Comparison models (details

)



Panasonic TC-P50UT50

50-inch plasma



Samsung PN60E6500

60-inch plasma





LG 50PM9700

50-inch plasma



Toshiba 50L5200U

50-inch LED



Vizio M3D550KD

55-inch LED
Picture Quality

The PN51E550 is absent the new All Black Pure Filter so it sacrifices a bit of contrast over the top tier Samsung plasmas but it still has Samsung's better picture quality technologies from last year which measured excellently well with us. What you get with the E550 is a good picture with a little more motion artifacting and graininess but at a value price for a 3D, 1080p plasma television from Samsung
Black Level and Contrast

Even without the All Black Pure Filter the PN51E550 has good black levels and contrast. Dark shadow detail is a strong point on all Samsung plasmas, in dark scenes you will not miss small details due to over powered black levels like you will in many of today's LCD and LED televisions.
Color
The colors on the 51E550 plasma look extremely realistic. In an age where many televisions are pushing color saturation over the edge, Samsung's plasma televisions continue to deliver warm and cool colors you see every day in life as well as excellent flesh tones that do not push red or blue.

Appearance
The PN51E550 has a 1" black plastic bezel that is covered with a clear acrylic finish, it is a good look for a value priced model. At 2.75" deep it is not a slim as many of today's televisions but it is still considerably slimmer than older plasma models.
Internet Options And Connectivity

The Smart TV feature has been expanded for 2012, and the 51E550 has access to the complete Premium apps and apps store which has grown to over 1500 third party developed apps. Angry Birds and Discovery Channel are two new entries for 2012. There are apps ranging from social media to streaming video and even games you can play on your TV. Stream video from Netflix, Amazon Video on Demand, Hulu, Vudu and more. Stay updated on the latest news, financial numbers, sports scores and the weather and new for 2012 on mid tier models: surf the web on the inlcluded full web browser.

The PN51E550 has built in WiFi so there is no need to run extra cable to get your plasma television on your home network.
Color accuracy
Here's where the PNE550 held a slight advantage over the Panasonic UT50, although it couldn't quite reach the accuracy of the PNE6500. The skin tone of Mrs. O'brien (3:11) looked appropriately pale and natural, without the slight flush of the LG and Toshiba or the slightly pale cast of the UT50. The Samsung E550 also looked a bit more saturated and rich than the Panasonic, for example in the red of her lips or the green of the ubiquitous grass. Saturation wasn't quite as impressive as the PNE6500, but the two Samsungs were the best in the lineup still, followed by the Vizio and then the UT50.
As I've come to expect from plasma, the E550's near-black areas also looked accurate and neutral without the greenish or reddish cast seen on some other sets, namely the LG and the LEDs in this lineup.
Video processing
Unlike higher-end Samsung plasmas like the PNE6500, the PNE550 is incapable of reproducing correct film cadence. Whether or not I engaged the CinemaSmooth setting -- a setting ostensibly designed to deliver proper film cadence -- my panning test clip showed the subtle jerky, chugging motion of 2:3 pulldown, not the smoother, correct film judder of 1080p/24 material. The PNE6500 and UT50, among others, passed this test.
As with previous Samsungs, the default Auto2 Film Mode setting for 1080i sources didn't result in proper deinterlacing; I had to switch to Auto 1 to get the PNE550 to pass that test.
Bright lighting
Like the U50 I reviewed previously, the PNE550's Achilles heel is its relatively poor handling of bright room lighting. Both TVs were about equal in their failure to maintain deep black levels and hence good contrast with the lights turned up, although I'd give the E550 a slight advantage because its image was slightly brighter. Both screens looked gray under moderate lighting, and as a result the image washes out to an even larger extent than on the UT50. It doesn't help that the U50 and E550 can't be "turned up" bright enough to really compensate, nor that both created bright reflections of in-room objects.
Every other TV in our lineup, including the PNE6500, was clearly superior to the PNE550 at maintaining black levels and contrast in a bright room.
3D
The E550 is an average 3D performer at best. Once I substituted the

Samsung UN55ES8000

, my reference active 3D TV, into the lineup for the 2D-only Toshiba, the Samsung E550 rated second-worst overall at delivering 3D images, besting only the LG.
Its biggest issue was crosstalk, which I consider the most annoying artifact associated with 3D. During "Hugo," my favorite crosstalk torture test with Hugo's hand reaching toward the mouse (5:01) showed the ghostly outline of crosstalk more prominently on the E550 than on any set save the LG. The next-best were the UT50 and PNE6500, which both showed less crosstalk in this and other scenes, like those showing the tuning pegs on the guitar (7:49), the struts, railings, and the pendulum inside the shaft (11:47) and the word "Films" from the GK Films logo before the movie starts. The passive Vizio and the Samsung UNES8000 showed the least crosstalk in the lineup.
Note that I engaged CinemaSmooth on the Samsungs and 48Hz mode on the Panasonic, both of which helped reduce crosstalk compared with Off and 60Hz, respectively. Otherwise I tested all of the TVs in their default Movie/Cinema/THX 3D modes since I didn't calibrate the sets for 3D.
In that mode the E550's main strength was shadow detail, which looked better than on the UT50, the LG, and the Vizio in areas like the darkened doorway under the station (9:53). On the other hand its black levels were lighter than the UT50's and the 6500's, although still plenty deep. In terms of color the E550 looked good, with saturation among the flowers (25:43) that surpassed that of the UT50. It did have a too-warm, reddish cast overall, however, which was visible for example in the face of Lisette (25:51).
As we mentioned in the review of the

SSG-4100BG glasses

, which are basically identical to the SSG-3050GBs included with this TV, Samsung's fit is pretty bad. The glasses didn't grip my head firmly when used with my prescription lenses, and even when I removed my regular glasses I found they admitted more ambient light than any of the others. Yes, they are among the lightest active glasses I've tried, but that's about all I can say that's positive. At least they're free. Check out my comparison of active 3D glasses for alternatives.
Power consumption
Note: The following information, as well as the juice box and annual power cost comparison, only apply to the 51-inch version of the Samsung PNE550 series, not the 60- or 64-inch versions.
No surprises here: the PN51E550 is a power hog and uses about as much juice as comparable 50-inch plasmas, which far outstrips the energy consumption of any similar LED TV. As usual its Standard picture mode is vanishingly dim, which accounts for the relatively low default power usage. That low default power use is also the reason this TV

qualifies for Energy Star 5.3

, while larger plasmas do not.
Spaces
Brand

Samsung

Manufacturer Part Number

PN51E550

Video

Screen Size

51 in

Display Technology

Plasma

Aspect Ratio

16:9

3D Fonction

Yes

2D/3D Conversion

Yes

Colour Enhancement

Wide Colour Enhancer

Refresh Rate

600 Hz

Game Mode

Yes

Audio

Speaker Output Power

2 out of 10 watts

Input/Output

HDMI Inputs

3

A/V (Composite) Inputs

1

Component Video Inputs

1

USB Media Port

2

Ethernet Port

1

Wi-Fi Connectivity

Yes - integrated

DLNA Certified

Yes

The essentials

Remote

Yes

Power

Energy Star

Yes

Physical features

Cabinet Colour

Charcoal Black

Warranty Parts

1 year

Swivel base

Yes

Width with Stand

1196.34 mm

Height with Stand

787.4 mm

Depth with Stand

304.8 mm

Width without Stand

1196.34 mm

Height without Stand

716.28 mm

Depth without Stand

55.8 mm